MALE, Maldives - A Maldives court issued an arrest warrant on Thursday for former president Mohamed Nasheed, who resigned this week but later insisted he had been ousted by coup plotters in a political dispute that sparked rioting.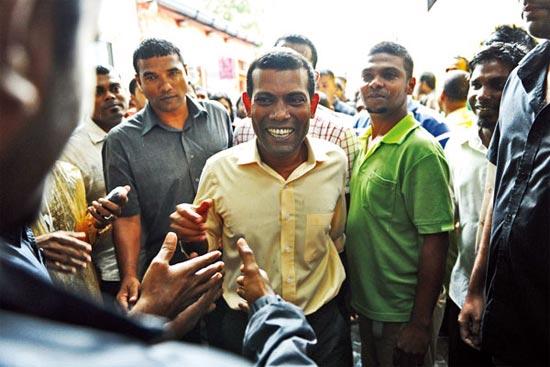 Former Maldivian president Mohamed Nasheed (center) reaches out to a supporter at his residence in the capital island Male on Thursday. A criminal court in the Maldives has issued an arrest order for former president Mohamed Nasheed and his former defense minister, party officials said. Ishara S. Kodikara / Agence France-Presse
Police spokesman Abdul Mannan Yusuf refused to disclose the grounds for the criminal court's warrant, or say when Nasheed - who is living at his Male home, surrounded by supporters - would be arrested. Later, Police Commissioner Abdullah Riaz said it was not clear if the warrant was constitutional. He declined to provide details, but said the warrant's legality was still being examined.
Rioters had rampaged through the streets of the Maldives capital on Wednesday to demand Nasheed's return, and more had attacked police stations in remote parts of this 1,200-island archipelago nation off the southern coast of India.
Nasheed says he was forced to resign on Tuesday while his successor's government maintains he left voluntarily. About 200 supporters stood under umbrellas in the pouring rain outside as Mohamed Nasheed spoke to reporters at his home in Male, capital of the islands renowned for their luxury getaway resorts.
"The home minister has pledged (I will be) the first former president to spend all my life in jail," said Nasheed, who was relaxed and smiling and showed no signs of his reported beating on Wednesday.
"I hope the international community will take note of what is happening in the Maldives."
He said he hoped the international community would act quickly as "the facts on the ground are that tomorrow I will be in jail".
Related stories
Editor:Zhang Jianfeng |Source: China Daily