WASHINGTON, Feb. 9 (Xinhua) -- U.S. President Barack Obama on Thursday praised Italy's cooperation on Afghanistan, Syria and Iran, saying that the two countries aim to end the "outrageous bloodshed" in Syria.
Emerging from his first meeting with Italian Prime Minister Mario Monti at his Oval Office, Obama told reporters that "We discussed a wide range of diplomatic concerns, including the situation in Syria, where we both have a great interest in ending the outrageous bloodshed that we've seen and seeing a transition from the current government that has been assaulting its people."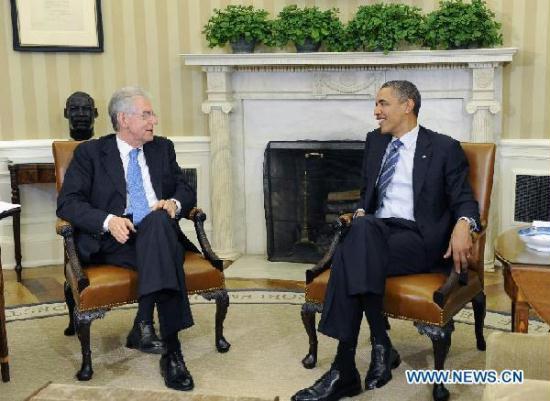 U.S. President Barack Obama (R) meets with Italian Prime Minister Mario Monti in the Oval
Office of the White House in Washington D.C., capital of the United States, Feb. 9, 2012.
(Xinhua/Zhang Jun)
Calling Italy "one of our most important friends and allies," Obama praised "the sacrifices and outstanding work" made by Italian forces in Afghanistan, saying "We reaffirmed our commitment to the Lisbon schedule in which we transition to full Afghan lead by the end of 2014."
At their Lisbon summit in November 2010, NATO leaders agreed on a gradual drawdown of the allied forces from Afghanistan and transferring security to the Afghan government by the end of 2014.
However, U.S. Defense Secretary Leon Panetta said early this month that the U.S. hopes to end its combat mission in Afghanistan by the middle of 2013, prompting government officials to try to make clear of U.S. strategy.
Obama also claimed that "We could not have been successful in our Libya campaign" without the "extraordinary" contributions of Italy, saying that they expressed their interest in working with Libya's transitional government to create a stable pathway toward democracy and economic prosperity.
He thanked Italy for its support of strong sanctions against Iran over its controversial nuclear program, saying that "We also both said that we would work as hard as we can to find a diplomatic resolution to that very difficult situation."
Hailing the alliance with the U.S., Monti said that he promised Obama "the renewed intention" of Italy to provide not only the necessary resources and manpower for the tasks facing the two countries and their allies, but also "the knowledge and expertise" that Italy may have, as regards particularly some countries in the Mediterranean and Middle East region.
Related stories
Editor:Zhang Rui |Source: Xinhua