The forthcoming Losar, aka the Tibetan New Year, boosts the festival economy in Tibet areas, attracting enormous consumers into shops for jewelries. At the same time, many of people choose the jewelry processing shops for maintenance or polish. The booming jewelry business delights the shop owners and craftsmen.
Peasants and herdsmen form the majority of jewelry consumers. Their available cash is increasing as a result of living quality improvement. Because of the huge demand on necessities for the coming New Year, local residents flock to a variety of shops in Lhasa.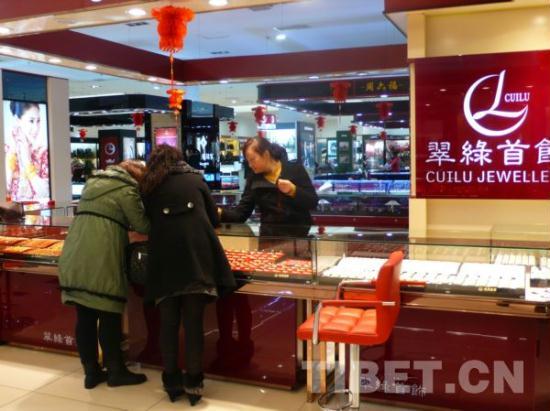 In the department store, girls prefer golden accessories of famous brand in Tibet.
[Photo/Tibet.cn]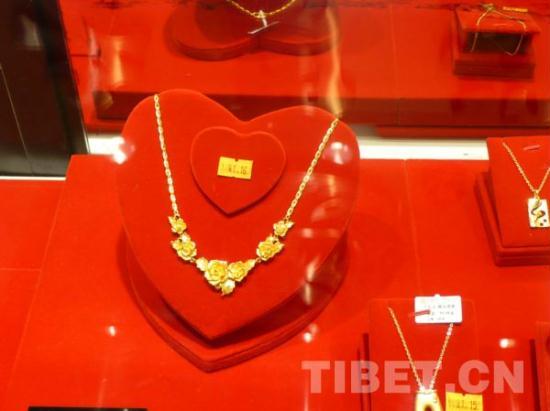 Fashionable golden accessories in the department store counter. [Photo/Tibet.cn]
In a processing shop near Barkor Street, a herdsman named De Qing from Nagqu told the journalist that she made a good fortune in trading Cordyceps Sinensis and yak dairy products, so she planned to re-make her earrings into a ring adding some more gold and red coral. The shop owner also told the journalist joyfully that the New Year festival increased the turnover, with a tripled per day revenue or more.
In the Lhasa department store, the journalist saw many young ladies coming for golden accessories. Although the golden accessory is traditional in terms of style, but the updating polishing craftship gives it a modern look.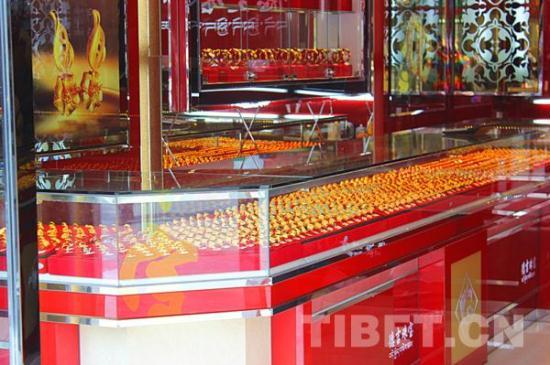 Jewelries in the processing shops. [Photo/Tibet.cn]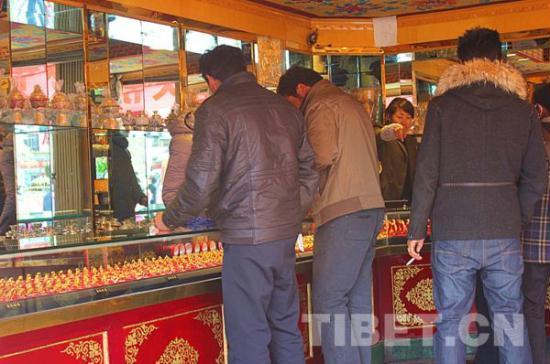 Plenty of consumers are ordering customized jewelry. [Photo/Tibet.cn]
Besides, the "mix and match" style also influences the jewelry market, making the products with mixed materials fit young consumers' taste. Therefore the golden products are fairly popular among young ladies, and a large part of them will buy jewelry as the "New Year's beauty necessity", also kind of year-end gift, according to the saleslady of "Chow Tai Fook".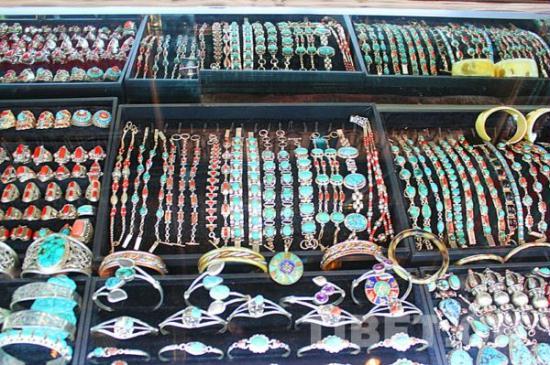 Accessories with typical Tibetan feature.[Photo/Tibet.cn]
Besides golden ones, the "major three Tibetan accessories"-the red coral, turquoise and ivory products are also popular. Norbu, a jewelry salesman from Ganzi Prefecture in Sichuan Province, told the journalist that he already reloaded the storage before New Year. People come to order jewelries despite of the increasing prices of red coral and ivory.
Editor:Wang Lingfei |Source: China Tibet Online