Feasts and family gatherings, firecrackers and rituals to dispel ghosts, prayers for health and harvest -- this is how Tibetans across China kicked off their celebrations for Losar, the Tibetan New Year, on Monday night.
The start of the Year of the Water Dragon, which falls on Wednesday, is a festival for China's 5 million Tibetans, and celebrations will last until the 15th day of the first Tibetan month.
Lhapa returned to his parents' house in Dagze county on the outskirts of Lhasa late Monday afternoon for a feast marking the "ghost-exorcising festival."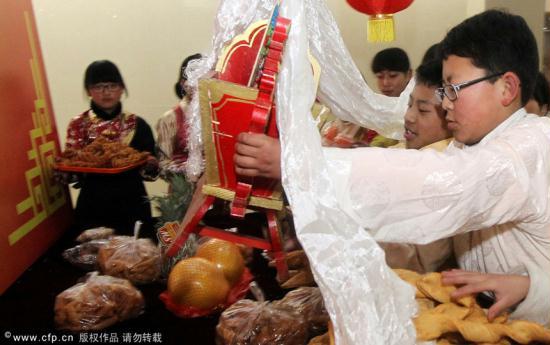 Tibetan students, who study in Nantong, Jiangsu Province, celebrate the Losar, or
Tibetan New Year, on Feb. 20, 2012. The Tibetan New Year, which falls on Wednesday,
is the most important festival for Tibetans. [Photo/CFP]
The festival, which falls on the 29th day of the last Tibetan month of the year, features family reunions and torch and firework lightings, and, in many ways, it is similar to Chinese New Year's Eve.
College-educated Lhapa has a white-collar job in downtown Lhasa and visits his parents only on holidays.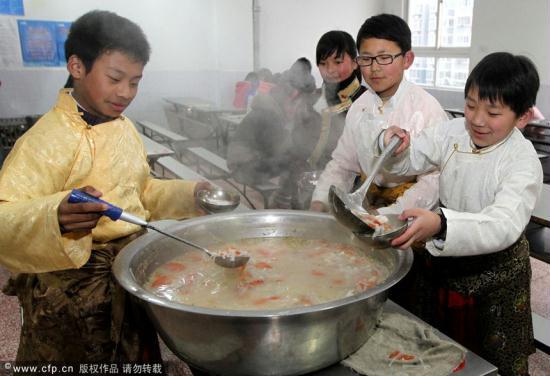 Tibetan students, who study in Nantong, Jiangsu Province, celebrate the Tibetan New Year
on Feb. 20, 2012. The Tibetan New Year, which falls on Wednesday, is the most important
festival for Tibetans. [Photo/CFP]
His mother prepared a rich variety of Tibetan foods: dairy snacks, beef, tsamba, and highland barley liquor. The main course, however, was Guthuk, a traditional Tibetan barley crumb snack with a meaty filling, also known as "29th dumplings".
Guthuk dumplings are cooked in a soup of minced beef, slices of radish and vegetables, and they are full of small surprises that bring laughter and gossip.
The whole family roared with laughter when Lhapa's younger sister Nyima spat out a piece of charcoal from one of her dumplings. "Why me? You guys know me well enough to mock me."
Charcoal is one of the nine "touchstones" wrapped in the Guthuk dumplings that Tibetans say, jokingly, can test a person's temper. One who accidentally eats a piece of charcoal is described as "black-hearted."
One who has a chili dumpling in his soup is described as outspoken, while a dumpling with a wool filling means the person is good-natured. Coins and wheat in the dumpling stand for good fortune, and bones symbolize kinship.
Lhapa stopped laughing when he saw his mother Chogyel remove a slip of paper from her bowl. "Paper stands for a busy life with no time to relax," he said. "Mom is indeed a hard-working person. Sometimes she gets too exhausted."
The Guthuk dumplings and barley liquor are also offered to ghosts in pre-dinner rituals, according to a unique custom prevalent in Lhapa's village.
"The villagers lay 18 stones against their outer walls and pour soup and liquor on each of them," said Tsering Dradul, an elderly man in the village.
He said the stones represent ghosts and the offering is aimed at sending them away so all the villagers will enjoy health and peace in the new year.
The formal ghost-exorcising rituals, however, started after dinner.
Lhapa's nephew Doje volunteered to do the job. He held a torch and waved it at every corner of the house. "Out, out comes the evil," he yelled.
At the end of the ritual he walked outside and threw the burnt torch in the fields. "This is to drive away all the diseases and bad luck. Make sure you do not look back until you are home. Otherwise, the bad luck will follow you."
Meanwhile, New Year's festivities are abounding across the plateau region.
The square in front of the Potala Palace in the heart of Lhasa has been spruced up with an ornamental garden, red lanterns and a huge chiema, which is a box containing five kinds of cereals -- including roasted highland barley flour mixed with butter, fried barley and dromar refreshments -- adorned with a butter sculpture in the shape of a sheep's head.
The chiema is prepared in every Tibetan home and is served to every guest.
For Lhasa housewife Dawa Drolma, all is set for the New Year's celebrations. She has prepared all the traditional food and drinks, cleaned her house and bought new clothes for everyone in the family.
"Each item symbolizes a different wish for the new year," she said, "such as sufficient food, good harvest, health and a new beginning."
In the coming two weeks of celebrations, Tibetans will also exchange New Year's greetings, worship gods and race horses.
Related stories
Editor:Wang Lingfei |Source: Xinhua