HANGZHOU, Feb. 21 (Xinhua) -- "Lin-sanity," "Lin-credible" and "Linderella" are just a few of the words used to describe the frenzy surrounding Jeremy Lin, a New York Knicks point guard whose inspiring story has made him a new idol for young Chinese after the retirement of former Houston Rockets center Yao Ming.
Lin has made headlines nearly every day in recent times, with his name becoming one of the most heavily-searched terms on Baidu.com, China's leading search engine. But there is a group of people in China who were fortunate enough to meet Lin before he became famous.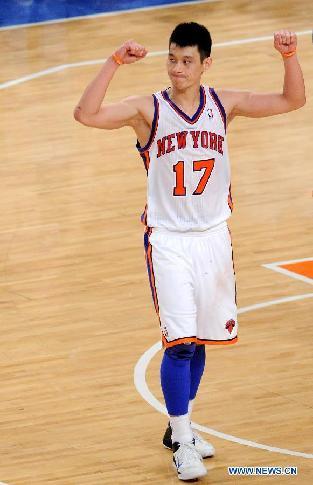 Jeremy Lin of New York Knicks reacts during the
NBA game against Dallas Mavericks at the Madison
Square Garden in New York Feb. 19, 2012. Knicks
won 104-97. (Xinhua, File Photo)
Heng Liang, a student at the Pinghu Middle School in east China's Zhejiang province, is one of the few who knew Lin and even played basketball with him.
"Lin is not unreachable like Yao Ming. He is very humble and just like a brother in the neighborhood," said Heng, who played basketball with Lin when Lin visited his school last year.
Heng still keeps a basketball signed by Lin, which he estimates to be worth at least 5,000 U.S. dollars on the Internet.
Lin visited Pinghu with his parents to support a scholarship launched by his grandmother, a resident of the area, in 1998. Zhu Zhongliang, vice president of the middle school, said they were very surprised by Lin's humble attitude when they held a special ceremony to welcome the basketball player.
"I just want to encourage you guys to work hard and go out, go do whatever you enjoy. It doesn't necessarily have to be basketball. (To encourage) you guys to pursue your dreams, not let anybody tell you what you can and what you can't do," Lin said at the ceremony.
Lin is perhaps the best example of his own words. Although critics have underestimated his performance, he has risen above their words to become a well-known NBA player, even to those who aren't familiar with the sport.
Gu Kaixi is another student who played with Lin. He said Lin encouraged them to "never give up" when their team was lagging behind in games.
"His perseverance and diligence are what we should learn from the most. As ordinary people, we have to believe in ourselves when facing setbacks," said Gu.
Lu Yanshun, a member of the school's basketball team, said he was very impressed by Lin's efforts to improve their ball-handling skills.
"He taught us to practice some very basic skills. He said he would spend an hour doing these exercises before every practice," said Lu.
In the eyes of many young Chinese like Gu and Lu, Jeremy Lin is far from perfect. Compared with Yao Ming, Lin is not physically outstanding, nor was he selected for the NBA draft. But his imperfection is the very thing that has drawn young people to him.
"Lin is not perfect and we feel there is less distance between him and us," said Gu. "He is humorous, outgoing and devoted to the things he loves, just like someone around us."
Lin has become a popular role model for many students, according to Deng Zhongken, Pinghu middle school's second vice president.
"His experience is the best textbook for our students," said Deng.
Editor:Wang Lingfei |Source: Xinhua