A year after Japan's largest earthquake and most destructive tsunami led to the Fukushima nuclear accident, experts say the industry has moved beyond any claims of absolute safety. As happened after the 2010 BP oil spill in the Gulf of Mexico, experts now recognize that any technology—whether it's deepwater drilling or nuclear fission—can and will fail, and operators must prepare for the worst.
"Fukushima Daiichi ... was not just due to an inadequately sized seawall—that is the wrong way to look at it," says Edward Blandford, a professor of nuclear security at the University of New Mexico and a postdoctoral fellow at Stanford University's Center for International Security and Cooperation. "The events at Fukushima Daiichi were due to a series of failures, including failures in plant defensive actions, mitigation efforts, and emergency response. If backup equipment had been stored in waterproof vaults or higher elevations, the accident would have most likely been avoided."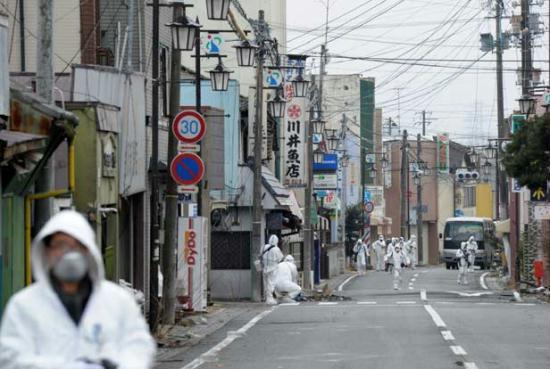 Empty streets: The town of Okuma, near the crippled Fukushima power plant, was opened
to the media for the first time earlier this month. The town was evacuated last March
12, following the devastating earthquake.
Nuclear operators and regulators say they embrace the need to anticipate the worst. Nuclear utilities in the U.S. launched a program this winter to stock portable reactor-cooling equipment at regional depots, and last week, the U.S. Nuclear Regulatory Commission (NRC) approved new mandates requiring operators to prepare for events worse than what a reactor is designed to handle—or "beyond design-basis events," in industry lingo.
Reactors and radioactive materials at Fukushima Daiichi were destabilized by back-to-back beyond design-basis events. First was the magnitude 9.0 earthquake that felled the plant's power lines, triggering diesel generators to maintain cooling of its reactor cores and spent fuel rods. Less than an hour later, the generators along with some of the plant's last-resort battery power backup were gone, knocked out by a 14-meter tsunami wave that crested the plant's seawall.
Human error and design limitations quickly compounded the impact of the loss of power. Operators mistakenly shut down battery-driven cooling on one reactor for three hours, for example. Within 24 hours of the tsunami, nuclear fuel in three reactors was melting down, and superheated fuel was generating hydrogen gas, whose ignition would blow open three reactor buildings in the days ahead, impeding response efforts and exposing elevated pools holding spent nuclear fuel.
While no deaths have yet been attributed to Fukushima's triple meltdowns, the radioactivity they released prompted a mass evacuation and contaminated an area spanning over 8,000 square miles.
Related stories