BIRMINGHAM, England - Lin Dan of China won his fifth All England title on Sunday when world number one Lee Chong Wei had to retire with a shoulder injury that had emerged over the last 24 hours.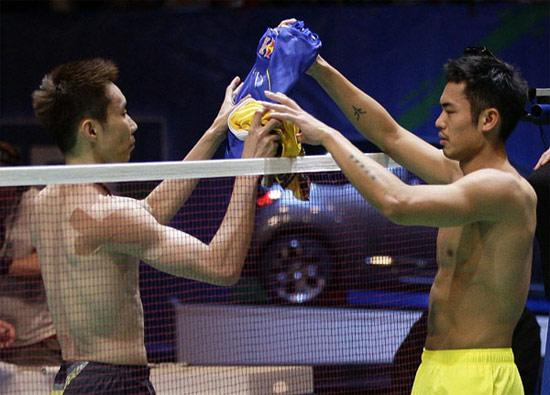 Lee Chong Wei (L) of Malaysia shakes exchanges shirts with Lin Dan of China after retiring injured during the men's singles final match at the All England Badminton Championships in Birmingham, central England March 11, 2012. [PhotoAgencies]
Lee Chong Wei of Malaysia receives treatment for an injury during the men's singles final match against Lin Dan of China at the All England Badminton Championships in Birmingham, central England, March 11, 2012. [PhotoAgencies]
The score stood at 21-19 6-2 to Lin when the Malaysian had to call it a day.
There had been some doubt whether Chong Wei would even start the final but he appeared on time to the delight of a near capacity 8,000 crowd at the National Indoor Arena.
But he needed treatment 15 minutes into the match when trailing 15-12 and again at the break after the first game. Then it soon became clear early in the second set he could not carry on and the two men shook hands after 31 minutes.
Lin, the Olympic and world champion, told the crowd: "I hope the injury does not affect him too much and we can meet at the Olympics again."
The injury denied Chong Wei a chance of revenge for an agonising world championship final defeat at Wembley Arena last August when he lost to Lin in three sets after wasting two match points.
But after victories in January in the Korean and Malaysian Open he looked to be back on track and in Birmingham he had reached the final without dropping a set.
However, a tiny alarm bell rang on Saturday when he disclosed after his semi-final victory over South Korea's Lee Hyun-il that he had woken up that morning with a painful hand.
That appeared to spread to his shoulder and despite some heroic efforts he had to yield yet again to Lin, his old foe.
Adding insult to injury, when the pair were locked at 19-19 in the first set, Lin got an extremely lucky net cord which gave him a duly converted set point.
With the Olympics and Thomas Cup men's team event not too far around the corner, the Malaysian will be seeking a swift recovery.
He told reporters: "I tried my best in the first game but it was getting worse to I had to stop. I am pretty disappointed but I couldn't risk continuing.
"I knew inside that I would not be able to finish the match. I have already withdrawn from the Swiss Open next week."
The two finalists exhanged shirts at the end, a relatively rare sight in badminton.
Lin, who won his first All England title in 2004, said: "We did it on the spur of the moment. We are both reaching the end of our careers and the game is not always about winning and losing. It's something more important."
Lin provided one of three victories on finals day for China after wins in the women's singles by seventh-seed Li Xuerui and the women's doubles by Tian Qing and Zhao Yunlei.
The men's doubles went to South Korean second-seeds Jung Jae-sung and Lee Yong-dae while the mixed title was won by Indonesia's Tontowi Ahmad and Lilyana Natsir.
Related stories