BEIJING, March 14 (Xinhua) -- China has no self-interests in the Syrian issue and will be impartial toward all relevant parties including the Syrian government to make its own judgement correctly according to the rights and wrongs, Premier Wen Jiabao told a press conference here on Wednesday after the conclusion of the annual parliamentary session.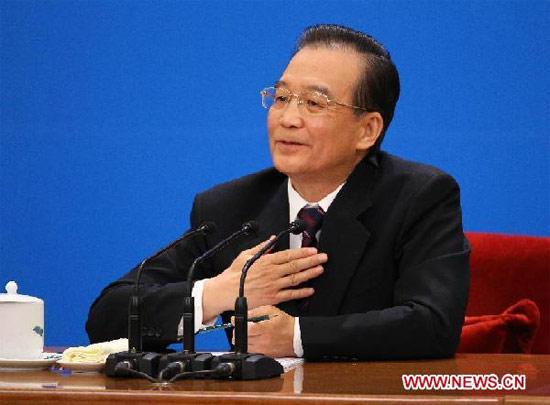 Chinese Premier Wen Jiabao speaks during a press conference after the closing meeting of the Fifth Session of the 11th National People's Congress (NPC) at the Great Hall of the People in Beijing, capital of China, March 14, 2012. (Xinhua/Chen Jianli)
"China does not take sides with any party, including the government of Syria. We make our own right judgement and determine our own position on this issue on the basis of actual facts," Wen told a press conference after the conclusion of the annual parliamentary session.
China believes that the demand for democracy by the Arab people must be respected and truly responded to, Wen said.
The premier also called on relevant parties in Syria to immediately stop the killing of civilians.
"China has deep sympathies for the humanitarian plight of the Syrian people," he said. "We have participated in relevant international humanitarian aid and will continue to do so."
China respects Syrian people's legitimate aspiration for change and supports the special envoy jointly appointed by the UN and Arab League in his mediation efforts, Wen added.
At the same time, China has through its own ways worked intensively with relevant parties for the early launch of a political dialogue process, he said.
Related stories
Editor:Zhang Jianfeng |Source: Xinhua