Big fan of King's Speech addresses crowds of strangers to fix stuttering
To overcome his speech defect, Wang Libin forces himself to face head-on the nightmare of every stutterer: speaking in front of a group of strangers.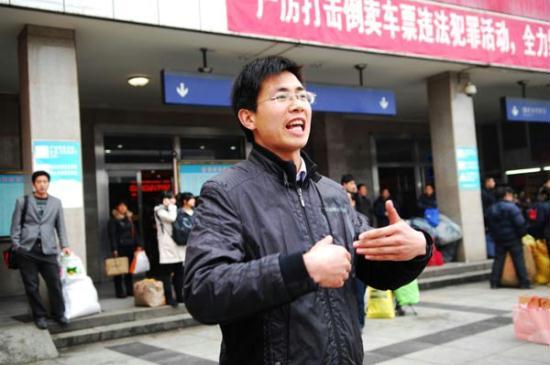 Wang Libin, a 26-year-old stutterer, practices public speaking on a square at the Zhengzhou
Railway Station in Henan province. Xiang Mingchao / China Daily
"Dear passengers, good morning. I am sorry to interrupt you," Wang says as he steps onto a bus each day.
"I'm a stammerer and I want to give a speech to encourage myself to talk in public," he said politely word by word one recent morning in Zhengzhou, Henan province.
Two of the 10 passengers looked at him suspiciously, while the others turned their eyes to the window as if they had heard nothing.
Talk about a tough crowd.
Undeterred, the 26-year-old carried on.
"Next, I'm going to tell a joke to relax you," he continued. "Actually, I'm not a good storyteller and my jokes aren't always so funny."
As he predicted, none of the passengers laughed, except for a middle-aged woman who couldn't help laughing when he stuttered for several seconds.
Though silent for 15 minutes during his speech, most of the passengers applauded at the end.
"The applause is encouraging for me," he told China Daily. "I'll continue with my plan to make at least 300 speeches this year in public venues, including the bus and the railway station."
Yang Xi'an, a 19-year-old student who attentively listened to Wang's speech on the bus, approached Wang afterward to encourage him to be persistent with his plan.
"Good speech!" Yang said. "You're sure to cure your problems this way."
Wang acquired his stammer from imitating his elder brother "out of curiosity" when he was 4 or 5 years old.
His parents scolded him after seeing he couldn't speak fluently, making him afraid to talk at home. Many of his classmates and some teachers in primary and middle school also insulted him by laughing or calling him names. He even wanted to kill himself after being mocked.
"To avoid being blamed, I tried to keep silent in front of my parents, and they just thought that I was a quiet child," he recalled. "My parents didn't know I was a stammerer until last year when I decided to tell them that I wanted to make a change."
"I couldn't even utter 'mom' at home when I was a teenager," he added.
His speaking problem was ignored for years because he and his parents focused on his studies, which he did well in during primary and middle school.
When he became a Russian language major in Zhengzhou University in 2005, it was time to fix his stutter.
"Many times I had the pronunciation of Russian words on the tip of my tongue, but I still couldn't say them," he explained.
"Besides, I wanted to join debating teams and campus activities, sometimes I wanted to run for class monitor," he added.
As you might expect, his favorite movie is The King's Speech - a 2010 British historical drama about King George VI coping with a stammer.
Wang has seen the film at least seven times.
He tried the classic therapeutic approach of inserting marbles in his mouth - the method that had cured Demosthenes, the ancient Greek speaker. He practiced making speeches that way for three years.
"The first time I finished practicing, I tasted salt in my mouth before I realized my mouth was bleeding," Wang remembered.
After that, he could say some sentences word by word, great progress compared with the past.
To find better approaches, he joined online groups through Internet messaging tool QQ, where he has become acquainted with more than 200 people with similar speaking difficulties.
"We usually share our experiences through QQ to find effective ways - such as to speak slower than before - to overcome our stutters," he said.
Eventually he decided to try speaking to strangers.
"The best way to defeat fear is to do exactly the things you feared before," Wang said. "So I chose to speak in public at the railway station, on the bus, and so on."
Xu Chengxiang, one of Wang's teachers at Zhengzhou University, said he is not surprised Wang is speaking on the bus. "He is a very persistent guy."
Wang plans to set up a center to help stutterers, with an initial investment of about 100,000 yuan ($15,800). He is optimistic for the future of his career.
"It is estimated that there are about 14 million people who stutter in our country. It's a big market," Wang said. "To help them speak is a win-win practice which will benefit both them and me."
Editor:Zhang Pengfei |Source: China Daily