Technique and craftwork kept alive by masters of the delicate art, reports Yang Wanli in Jingdezhen.
In a small town in China, almost all the visitors departing from the local airport attempt to carry the maximum number of suitcases allowed onto the plane.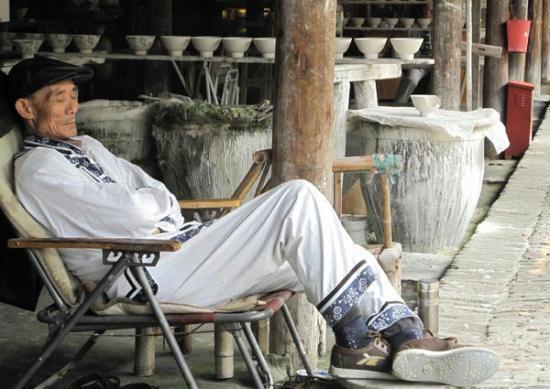 A craftsman manages to take advantage of a lull in business last month at a porcelain shop in
Jingdezhen, East China's Jiangxi province. Yang Wanli / China Daily
On the evening of March 22, the flight to Beijing was delayed 15 minutes as the cabin crew rearranged luggage. "It's unbelievable that the rack is full, 20 percent of the seats weren't sold," murmured a stewardess.
When the plane finally took off, the empty seats were occupied by boxes filled with Chinese porcelain.
Jingdezhen, in northeastern Jiangxi province, is a city that has been supported by a single industry for more than 1,000 years. It has been called "The Capital of Porcelain" since an 11th century emperor gave it the name in admiration of its beautiful craftsmanship.
In the following centuries, Chinese vases, bowls and tableware became so famous worldwide that the word "china" became the English word for the material, supplanting the Franco-Italian term "porcelain".
However, that glory has faded over the centuries and now China's leading position in the industry is threatened by goods made overseas.
According to statistics from the China Ceramics Industry Association, the average export price of one piece of Chinese porcelain was just 35 US cents in 2010, just 10 percent of the price of an imported piece. Moreover, the manufacture of porcelain for use in the construction industry has also declined.
Related stories