SERI BEGAWAN, Brunei April 20 (Xinhua) -- China's top political advisor Jia Qinglin on Thursday made a four-point proposal to further promote the China-Brunei ties.
Jia, chairman of the National Committee of the Chinese People' s Political Consultative Conference (CPPCC), China's top political advisory body, made the proposals in a meeting with Sultan of Brunei Hassanal Bolkiah in Seri Begawan, the capital city.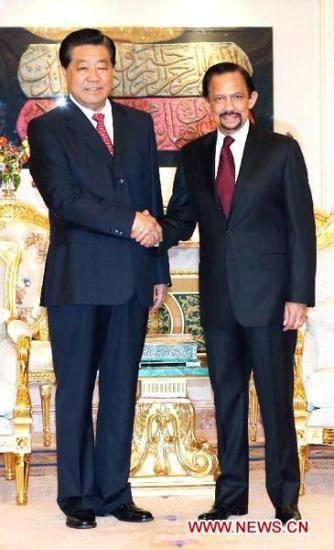 Jia Qinglin(L),chairman of the National Committee
of the Chinese People's Political Consultative
Conference,meets with Brunei's Sultan Hassanal
Bolkiah in Bandar Seri Begawan,capital of Brunei,
April 19,2012.(Xinhua/Yao Dawei)
Jia said the two countries should maintain high-level exchanges, and communicate through such exchanges on major issues of common concern and enhance political mutual trust.
He called on the two countries to expand economic and trade cooperation, to link bilateral cooperation with each other's national development strategy and seek common interests.
The two sides should further strengthen energy cooperation and give full play to the free trade policy between China and the Association of Southeast Asian Nations (ASEAN) and promote a fast growth of the bilateral trade, Jia added.
He said the two countries should conduct closer cultural, people-to-people and youth exchanges.
Jia also urged the two sides to promote cooperation on issue concerning the South China Sea, saying China has always maintained that the disputes on South China Sea should be solved through peaceful negotiations by countries directly involved.
As the current situation on the South China Sea has taken a positive turn, China is ready to join hands with Brunei to implement the Declaration of Conduct of Parties in South China Sea (DOC), promote pragmatic cooperation between China and ASAEN countries and make the South China Sea a sea of peace, friendship and cooperation.
Hassanal said Brunei and China have kept close communication and cooperation on the South China Sea issue. Brunei agreed that the disputes should be solved through peaceful negotiations by relevant claimant countries, so as to maintain peace and stability in the region.
Hassanal also reiterated Brunei's firm adherence to the one- China policy.
Conveying President Hu Jintao's greetings to the Sultan, Jia said China and Brunei shared long history of traditional friendship. Their bilateral relations developed smoothly thanks to the joint efforts by both countries, which may well serve as a good example of big and small countries respecting each other and treating each other as equals.
He spoke highly of the importance Sultan attached to the development of bilateral relations, saying China cherished its ties with Brunei and was ready to join hands with Brunei to further promote the bilateral ties on the basis of equality, mutual respect and mutual benefits.
Hassanal thanked for Hu's greetings and asked Jia to convey his greetings to President Hu.
He said he kept close cooperation with Chinese leaders to ensure a continuous development of Brunei-China relations. He was glad that the two countries are cooperating closely in such areas as trade, economy, energy, agriculture and culture, and hoped the two sides would further deepen these cooperation.
Jia wrapped up his Brunei visit on Friday morning and left Brunei for Thailand, the last stop of his three-nation visit.
Editor:Wang Lingfei |Source: Xinhua