Tough times, thin margins prompt Chinese fragrance makers to embark on value-adding trail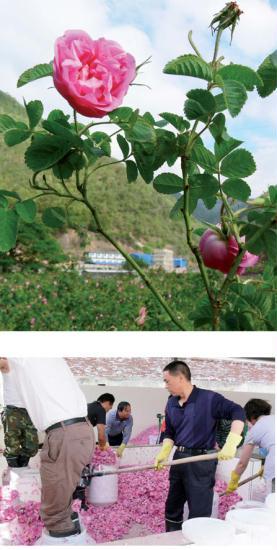 Top: A cabbage rose production base in Yunnan.
The southwestern province exported $105 million
worth of natural oils and fragrances of
synthetic chemicals in 2010. Above: Fragrance
manufacturers need to upgrade techniques to meet
market demand. Photos Provided to China Daily
What is common with Chanel, Coty and Davidoff? Nothing, one would tend to say, as they have different fragrances and positioning. But very few know that some essential ingredients that make up most of the famous perfume brands come from Yunnan, in China. Though the province is still home to many aromatic treasures, it seems to be fast losing its edge in the global markets as rampant price wars among domestic suppliers and failure to embrace modern manufacturing techniques are fast eroding the profit margins of companies.
Situated in the southwestern subtropical zone of China, Yunnan is home to more than 400 species of natural spices. The annual output of geranium oil - an essential ingredient for perfumes - in Yunnan is about 120 tons and accounts for half of the global trade, according to information provided by the provincial agriculture department.
In 2010, Yunnan's fragrance manufacturers exported $105 million (80 million euros) worth of natural oils and fragrances of synthetic chemicals, up 20 percent from a year earlier. This accounted for more than half of the $239 million revenue earned by the province's flavor and fragrance industry, a 15 percent growth over the previous year, according to the China Association of Fragrance Flavor and Cosmetic Industry. Most of these exports were to destinations like the United States, Europe, India and the Middle East.
Zhou Yong, general manager at Yunnan MeiJie Industrial Trade Co Ltd, says his company has supplied aromatic raw materials, through traders, to many French fashion houses such as Chanel and L'Oreal.
"It requires many different fragrances to make a perfume, but ingredients such as geranium oil and michelia oil from Yunnan are essential ingredients," he says. "You may find them in other places in the world, but the aroma is not as good as the flowers in Yunnan and it is also difficult to replicate it with synthetic chemicals. So technically speaking nearly every French perfume house uses raw materials from Yunnan."
Though the short-term numbers look impressive, considering that exports are increasing and growth is stable, experts express concern that in the long run the prospects are not that rosy as lack of deep processing skills may hinder the further development of the fragrance industry in Yunnan.
Feng Rui, director of the China Association of Fragrance Flavor and Cosmetic Industry, says Yunnan's fragrance industry has seen a steady growth in line with the fast development of the cosmetic, healthcare and pharmaceutical industries, the key industries that use natural oil, fragrance extracts and synthetic chemicals. Industry growth may slow down if local fragrance makers are unable to develop their own skills to meet the demands from key consumers.
"Profit margins for local fragrance makers have been shrinking rapidly and are currently only about 10 percent of the total revenue," Feng says.
"Margins have been falling for Chinese fragrance companies as most of them are essentially raw material suppliers situated at the bottom of the industry chain and hence more prone to demand fluctuations."
One person who is facing such a dilemma is Zhao Yan, the chief technician of Yunnan Emerald Essence Ltd, one of the largest fragrance companies in the province, which relies on exports to the US, Europe and the Middle East.
His company reported export earnings of 200 million yuan ($31.7 million, 24 million euros) last year, but net profits of only 2 million yuan.
"Most of the fragrance makers in Yunnan are stagnating in the upstream of the industrial chain with the core business of making simple extracts from raw materials. International traders need to do further processing before selling the products to global fashion houses. The Chinese companies have no pricing power and this itself depletes our profits by more than half," Zhao says.
"We need an industrial upgrade in the fragrance industry, lest our profit margins be squeezed further."
Zhou from MeiJie says that his company saw a sharp decline in turnover from 30 million yuan to 2 million yuan in the past decade as a result of the bitter price wars in the industry.
"Many local companies are trying to gain an advantage by cutting prices drastically to sell more of their products. But they don't realize that it causes immense financial damage to their competitors," Zhou says, citing the example of geranium oil, where prices have dropped from 1,600 yuan per kg to 800 yuan.
"Such actions have hampered the whole industry. Due to the price wars, many fragrance companies had to shut shop, while several others had to curtail production."
Zhou Tiesheng, director of the Yunnan Flavor and Fragrance Research and Development Center, says the way out for the companies is to move up the value chain by imbibing more scientific research and output techniques along with launching more medium- and high-end products.