The second installment of the capital's film festival shows vitality - and, sometimes, immaturity. Liu Wei reports in Beijing.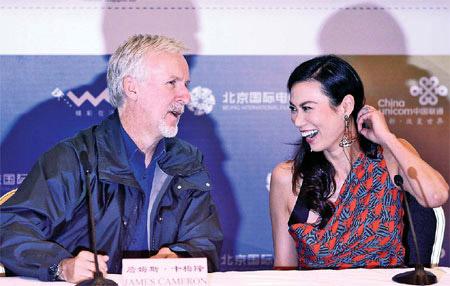 American director James Cameron and Wendi Deng Murdoch attend an event at the Beijing
International Film Festival. Photos by Jiang Dong / China Daily
It is quite logical that Beijing would host a grand film festival - the capital produces half the country's films, hosts the most studios and the best film school, and has contributed more to the box office than any other city.
You could even say it was overdue when it arrived last year.
The second installment of the Beijing International Film Festival (BJIFF) started on Monday. It ambitiously aspires to showcase how important the film culture and industry are in a rapidly growing market.
The event is supported by the local government and the State Administration of Radio, Film and TV (SARFT).
"The Beijing festival will help define the capital as a national cultural center and contributor to the exchange and prosperity of the global film industry," Beijing's mayor Guo Jinlong, who's the festival's honorary chairman, says at the opening ceremony.
While China imports only about 20 foreign films for theatrical releases a year, filmgoers will see some of the most acclaimed commercial blockbusters and art house pieces during the festival.
A dazzling list of 260 films, including Martin Scorsese's Hugo and all three installments of The Lord of the Rings, are available in 20 theaters from April 23-28.
What opens and closes the gala for cinephiles are A Separation and The Artist, respectively, the best foreign language film and best picture among this year's Academy Awards.
Some of the most acclaimed art house pictures in recent years, such as The Tree of Life and The Kid with a Bike, are also included.
Coming along are A-listers and major Hollywood studios that hope to better approach the world's most rapidly growing film market.
Related stories