NANJING, May 10 (Xinhua) -- Since being photographed sharing his french fries and having a warm chat with an elderly beggar in early May, Jason Loose has been dubbed the "French Fry Brother," and his kind-hearted deeds have sparked a heated discussion on morality amongst Chinese netizens.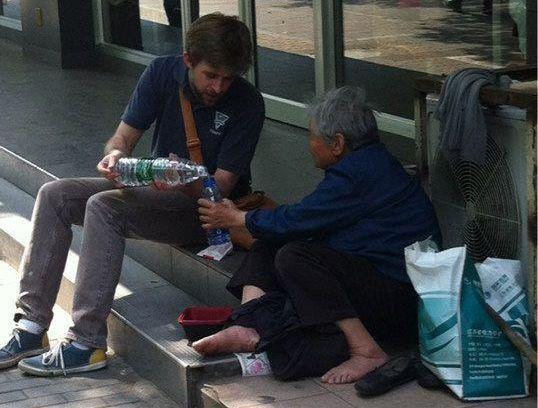 Jason Loose(L), a 23-year-old American, shares his french fries and water, and has a warm
chat with an elderly beggar in Nanjing, China. (Source: gongyi.people.com.cn)
Loose, a 23-year-old American, finished his final year of college at Nanjing University, and he currently works as an intern at a sports brand company in Nanjing, provincial capital of Jiangsu.
He is also an active volunteer with public welfare groups, helping children with math courses in the U.S. and teaching English to the children of migrant workers in China.
After studying Chinese for five years in both the United States and China, he speaks Mandarin fluently, making it possible for Xinhua reporters to conduct an interview in his second language.
In popular photos circulating on the Internet, Loose and an aging begging granny are seen sitting on the ground nearby a McDonald's as he offers her drinks, shares his french fries and talks intimately with her.
The "French Fry Brother" quickly stirred online discussions, and over 150,000 posts related to him as well as the country's relationship with the needy have been forwarded and attracted comments on Sina Weibo, China's most popular Twitter-like microblogging site.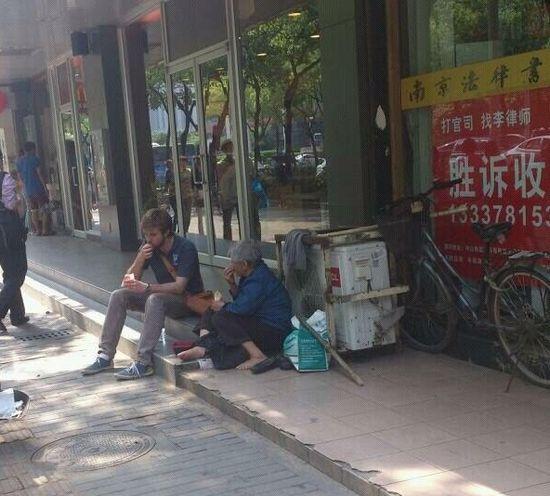 Jason Loose(L), a 23-year-old American, shares his french fries and has a warm chat with
an elderly beggar in Nanjing, China. (Source: gongyi.people.com.cn)
"It was such a heartwarming scene, but brought by a foreign young man,who offers his love, care and trust to a stranger in need," microblogger "Hunlizhuchiquhui" wrote. "It makes me reflect on whether I could do what he does."
Surprised by the outpouring of praise and requests for interviews, Loose says he feels "extremely shy, as it was just an encounter with someone in need. They (the beggars) are just like us, and they deserve respect and social concern."
However, some netizens have not been eager to praise his deeds or to offer their concern for those in need, arguing that foreigners are unfamiliar with China's actual conditions and that the beggars are mostly cheaters not worthy of help.
"Many times we can't tell which are real beggars and which are not, so we don't dare to offer our love and concern," "Baiqieshengyupie" wrote.
Still, some have interpreted his deeds as a reminder of the holes in society's moral fabric.
"Receiving no support from her children, the 80-year-old granny has to wander around and beg. I hope she was not cheating me," Loose says. "Whatever, she is a poor guy in need. And I offered what I could."
In fact, the story of the "French Fry Brother" and the poor granny has not been the first "wake-up call" prompting Chinese to reflect upon a general tendency to be apathetic toward those in need.
A two-year-old girl who was hit by two vehicles on a market street and subsequently ignored by 18 passersby died in hospital in October 2011.
The nineteenth pedestrian, a migrant woman collecting trash, pulled Wang Yue to the side of the street and alerted the girl's mother.
The death of "Little Yue Yue" triggered a nationwide wave of mourning as well as public outcry for mutual love and concern.
"We should offer our helping hand to those in danger or trouble, and, of course, with less hesitation," microblogger "Nuannuan" wrote. "Others may give the granny some money, but a foreigner offers respect and warmth."
"Love, at its most fundamental level, knows no borders," Loose says, adding that we should always show our gratitude for all the people and places around us.
"In my experiences with China, there have been numerous sweet and warm scenes in public," he recalls. "People offer seats to the elderly and to children, and many people like to give money or food to beggars. They are not indifferent."
But Loose wonders what would happen if he ran into the begging granny again. "It would be a happy reunion if we met again. And we would share something else, maybe more healthy food, following netizens' suggestions."
Editor:Zhang Pengfei |Source: China Daily