By Zhang Rui
With the help of a Chinese television company, viewers in 13 African countries will now have access to digital TV, industry insiders said at a Beijing digital media conference yesterday.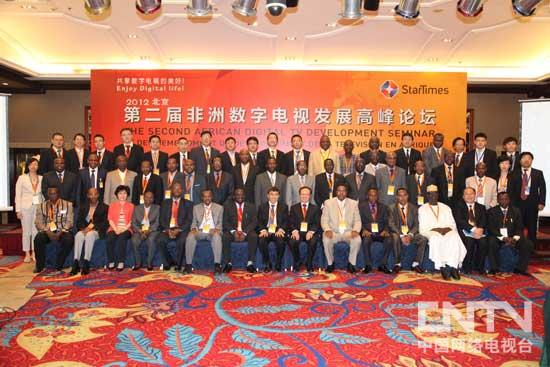 The Second African Digital TV Development Seminar is held in Beijing, June 4, 2012.
[Photo by CNTV reporter Zhang Rui]
StarTimes, already the largest paid digital TV provider in the Chinese Mainland with over 7 million subscribers, is the sole Chinese provider authorized by the Chinese government to operate in Africa. The company expanded its operations internationally in 2007 and now reaches 1.2 million customers abroad in a dozen countries.
The 13 participating African countries will now be able to receive up to 130 international channels, including 5 CCTV channels.
A StarTimes spokesperson said the company's green light to enter the African market will hopefully bring four million customers to its digital service by the end of this year.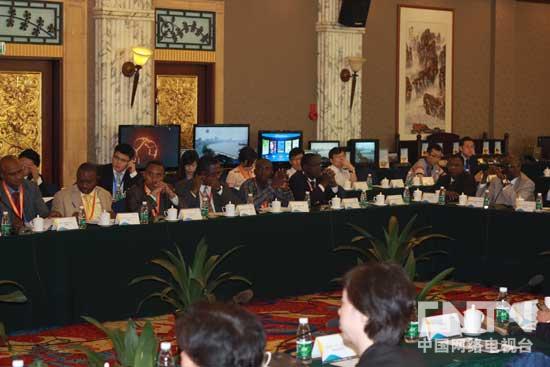 The Second African Digital TV Development Seminar is held in Beijing, June 4, 2012.
[Photo by CNTV reporter Zhang Rui]
Speaking at the African Digital TV Development Seminar in Beijing yesterday, Pang Xinxing, CEO of StarTimes, said the acceleration of technology now allows ordinary people to watch and enjoy digital TV. Digitalization also brings clearer, richer content as well as added convenience, he added.
The expansion will not only open up a broader range of programming choices for African consumers, but increase China's exposure in the African world, providing a new arena for international exchange.
Zhou Guizhen, a spokesperson for the international cooperation department of the State Administration of Radio, Film and TV, applauded the move, saying "It sets an example for Chinese private companies in Africa, and also creates a better platform of exchange."
Fomer Chinese Vice Commerce Minister Wei Jianguo also praised the effort. "I think now is the time for further cooperation between China and Africa in the communication sector. It is important for the African people to know what China is like nowadays," he said.
African delegates to the conference discussed the challenges of bringing digital TV to African viewers. Yomi Bolarinwa, head of the Nigerian Communication Bureau, said Chinese providers may help reduce operating costs, which are seen by many a key hurdle to the sector's development.
"It is quite clear that we cannot make the transition alone. We need it now, and the Chinese have the right technology and the right price," Bolarinwa told attendees.
The second annual African Digital TV Development Seminar, held in Beijing on June 5-6, brings together 50 delegates from 19 African countries together with experts from the Chinese domestic media sector. The theme of this year's conference was "From Analog to Digital - Development of Digital TV in Africa". StarTimes is the only sponsor.
Related stories
Editor:Zhang Jingya |Source: CNTV.CN