Country will reward people who expose substandard products
The State Council laid out measures to improve food safety on Wednesday, including tighter supervision and harsher punishment for violators.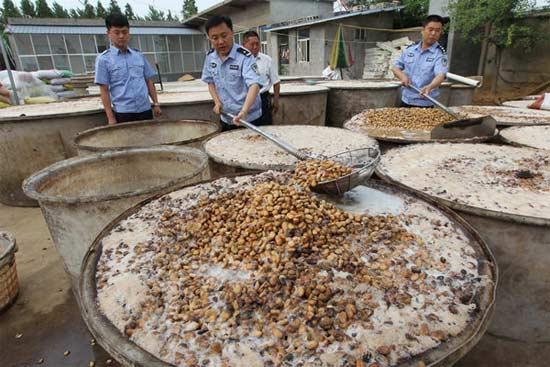 Police officers examine decayed beans at an illegal food processing plant in Cangshan county, East China's Shandong province, on June 1. The plant has been shut down. Initial investigation found its products, fried beans and peanuts, were mainly sold to rural market. [Zhu Wutao / For China Daily]
"It is an onerous task for the government to ensure food safety," as China's food industry is still suffering from nonstandard management and many hidden safety risks, according to a statement released after a State Council executive meeting presided over by Premier Wen Jiabao.
The government should enhance supervision by setting up an efficient mechanism that covers all links in the food industry and a rigid food recall system for destroying defective products, the statement said.
The State Council has vowed a "vigous crackdown" on those who endanger food safety.
Meanwhile, policies, laws and regulations should be revised to increase costs for violators, according to the statement.
The country will intensify a series of food safety supervisions, including strengthening enterprises' accountability for their food products and streamlining current food quality testing standards .
The country will establish credit profiles for food enterprises, releasing quality information to the public in time, the statement said.
Also, the country will give prizes to people who expose substandard food products, it said.
China is facing increasing risks on food safety as some food enterprises have put too much emphasis on profits, negatively affecting sales, Pu Changcheng, deputy director of the General Administration of Quality Supervision, Inspection and Quarantine, said at a news conference on Monday.
In 2011, several food safety scandals were exposed in the country, including restaurants serving food cooked with "gutter oil", illegal cooking oil recycled from kitchen waste and decomposed animal fat and organs from slaughterhouses.
In March, the State Food and Drug Administration asked McDonald's franchise restaurants in China to examine their food-processing procedures after a China Central Television program reported one branch of the fast-food chain selling expired products.
"All food enterprises in China, including companies of import and export food, should realize that they serve as the body responsible for ensuring food safety. Each of the links from raw material production, processing, circulation to consumption must be supervised and inspected strictly," Pu said.
Dong Jinshi, executive vice-president of the International Food Packaging Association, said that punishments for food enterprises with illegal operations are always too light.
"Those people responsible for food safety scandals should be investigated for criminal responsibility in accordance with law. But now only a few people received such severe punishment," he said.
On Tuesday, catering businesses in China had been banned from adding nitrite salts to processed meats, according to a joint announcement from the Ministry of Health and the State Food and Drug Administration.
Under Chinese law, nitrite salts, a group of industrial salts, can be added to foods, such as sausages and smoked meats, as a preservative and coloring agent but only in very small and limited amounts.
Some restaurants, diners and snack booths have been found adding them to meat products they prepare themselves.
In April 2011, a 1-year-old girl died of nitrite poisoning after eating fried chicken bought from a street vender in Beijing.
Editor:Zhang Jianfeng |Source: China Daily