By Bai Yang (CNTV)
Students from Shanghai Soong Ching Ling School visited a four-vessel fleet of Indian warships, including the Guided Missile Stealth Frigate Shivalik, which arrived at the Shanghai International Cruise Terminal June 13 on a four-day friendship mission to China.
At 10:30 a.m., about 50 fifth grade students boarded the Shivalik. They got a chance to check out the ship's equipment and talk with Indian sailors. The students also impressed the Indian naval delegation with research they had done on warships.
"When we got the invitation to visit, we asked our students to research some background information about warships, and also Indian culture. Meanwhile, we organized some presentations to show what they had found. One student did a good job, and I was impressed by what he said -― that modern warships are not only for battles, but also for peace," said Qiao Deling, a teacher at Shanghai Soong Ching Ling school who supervises one of the fifth grade classes who toured the Shivalik.
After the chat, the students were treated to traditional biscuits and tea aboard the Shivalik.
Luo Yikai, a student from Shanghai Soong Ching Ling School, said, "From this visit, I know a lot more about warships. It was really interesting, and the Indian sailors were so nice."
At the end of visit, the students collaborated to draw a poster of the Shivalik and presented the picture as a gift to the Indian navy, as a symbol of Chinese-Indian friendship.
The Indian fleet's visit to Shanghai as well as the student's tour of the Shivalik is part of ongoing friendly exchanges between India and China to mark 2012 as the "Year of India-China Friendship and Cooperation".
Slideshow: Shanghai school students visit Indian warships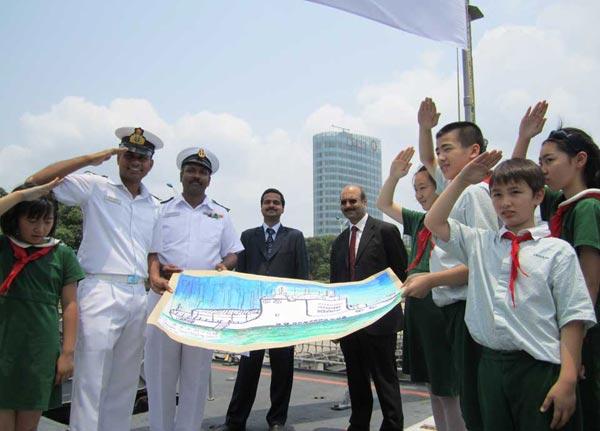 Students from Shanghai Soong Ching Ling School tour the Indian Guided Missile Stealth Frigate
Shivalik on June 14. The ship is docked in Shanghai until June 17 on a friendship mission
to China.(Photo by Bai Yang/CNTV)
Slideshow: Indian fleet arrives for goodwill visit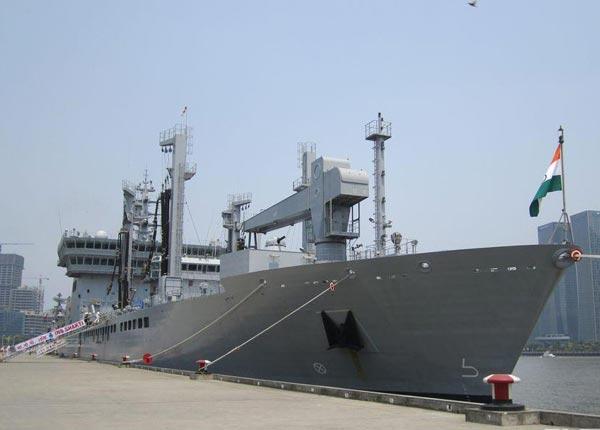 The Indian-built Guided Missile Stealth Frigate Shivalik enters the International Cruise
Terminal in Shanghai on Jun. 13.(Photo by Bai Yang/CNTV)
Editor:Wang Chuhan |Source: CNTV