BEIJING, June 24 (Xinhua) -- A manual docking between Shenzhou-9 spacecraft and the orbiting Tiangong-1 lab module has been successful Sunday.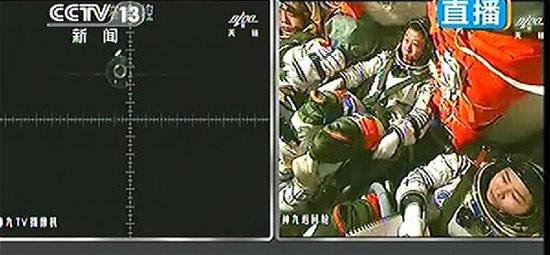 TV grab taken on June 24, 2012 shows Chinese astronaut Liu Wang, assisted by
his teammates Jing Haipeng and Liu Yang, controlling the Shenzhou-9 spacecraft
toward the Tiangong-1 space lab module. China's first manual space docking
started Sunday noon. (Xinhua)
The Shenzhou-9 spacecraft and Tiangong-1 lab module has been conjoined again.
It means China has completely grasped the space rendezvous and docking technologies and had the fundamental abilities to build a space station.
Related stories
Editor:Zhang Jianfeng |Source: Xinhua