RIO DE JANEIRO, June 21 (Xinhua) -- China and Brazil issued a joint statement here Thursday, pledging to upgrade their bilateral ties to a comprehensive strategic partnership and enhance bilateral cooperation in various areas.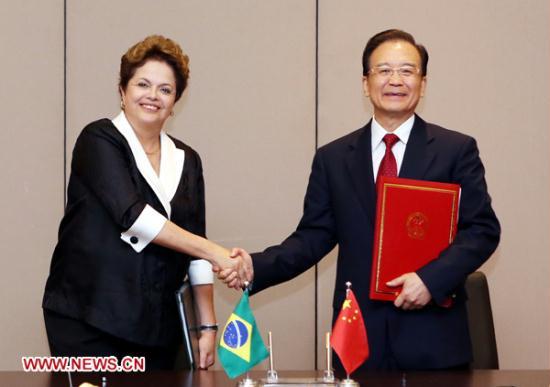 Chinese Premier Wen Jiabao (R) shakes hands with Brazilian President Dilma Rousseff during
the signing ceremony for bilateral documents in Rio de Janeiro, Brazil, June 21, 2012.
(Xinhua/Yao Dawei)
During their meeting here Thursday, both Chinese Premier Wen Jiabao and Brazilian President Dilma Rousseff emphasized that the decision to upgrade the bilateral ties to a comprehensive strategic partnership reflected the increasing importance of the two countries in the world in the globalization era, according to the statement.
Against the backdrop of profound changes in the current world, the two countries would have cooperation in more fields, they said.
The two sides will launch a comprehensive strategic dialogue mechanism at the level of foreign ministers for at least once in a year.
During Premier Wen's visit to Brazil, the two sides signed a ten-year cooperation plan, which will direct bilateral cooperation in such fields as technological innovation, space, energy, minerals, infrastructure, investment, finance, industry, trade, education and cultural exchange over the next ten years.
Both Premier Wen and President Rousseff announced that the two countries will make concerted efforts to pursue the launch of the Satellite 03 of the China-Brazil Earth Resource Satellite series this year and Satellite 04 in 2014, the statement said, adding that discussion on a "10-year space cooperation plan" will also be put on agenda.
Related stories