BRUSSELS, June 28 (Xinhua) -- European Union (EU) top leaders have agreed to mobilize 120 billion euros (about 150 billion U.S. dollars) for immediate growth measures, European Council President Herman Van Rompuy said Thursday.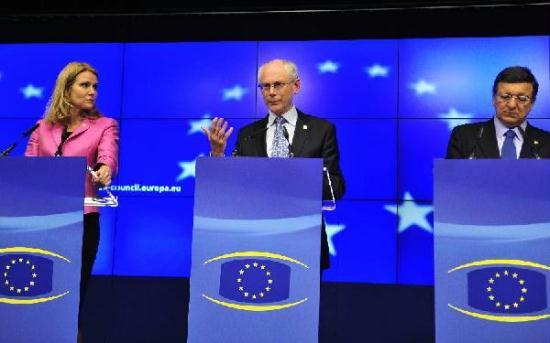 Danish Prime Minister Helle Thorning-Schmidt (L), European Council President Herman Van
Rompuy (C), and European Commission President Jose Manuel Barroso attend a press conference
during the EU summit at EU's headquarters in Brussels, capital of Belgium, late on June 28,
2012. Top leaders of the European Union (EU) have not agreed on a compact for growth and
jobs yet, but a package of growth initiatives worth 120 billion euros (about 150 billion US
dollars) to help the most vulnerable economies in the bloc, Van Rompuy said Thursday night.
(Xinhua/Ye Pingfan)
Meanwhile, sources told Xinhua that Italy and Spain had threatened to block the entire growth pact if they cannot secure short-term support to ease their mounting financing pressure.
"We will boost the financing of the economy by mobilizing around 120 billion euros for immediate growth measures," Van Rompuy told a press conference following intensive talks of all EU leaders.
During a two-day summit in Brussels to further tackle the eurozone's sovereign debt crisis, EU leaders are scheduled to agree upon a larger compact for growth and jobs that aims at long-term economic revival, but they have not reached the final agreement yet, Van Rompuy said.
"In the growth and jobs agenda, there's a section that deals with financial stability. That chapter has not been discussed yet," he said, adding that it had taken longer than expected to talk about growth.
Van Rompuy also hinted at the press conference that there were two countries that had insisted on having both short-term and long-term measures.
The president added that short-term measures to address market concerns should be dealt with at the smaller summit of eurozone leaders on Friday after the EU summit.
It was what on the mind of Spanish Prime Minister Mariano Rajoy, who was said to have stated that "I cannot return to my country without something in my hands," according to two sources of Xinhua.
His Italian counterpart Mario Monti was also reported to have said that he's ready to work until Sunday night to ensure measures to calm the turbulent financial markets.
Earlier in the day, Italy paid the highest cost for its 10-year bond since December, selling the notes at 6.19 percent, while yields of Spanish 10-year bonds rose to an unsustainable level of 6.94 percent.
Appealing for direct help from the eurozone, "we're financing ourselves at costs which are too high and many Spanish institutions can't even access funding," said Rajoy as he arrived at the summit.
Northern European countries led by the eurozone's paymaster Germany have long been opposed to using the bailout fund to buy member countries' bonds, however a sign of flexibility emerged when Dutch Prime Minister Mark Rutte said that he was "prepared to use exiting instruments to help those countries to get back on track."
According to EU sources, France had been "clearly leaning towards" Italy and Spain in calling for short-term support for the two countries in the form of using bailout funds to buy their bonds.
The French move has resulted in a "rift" between Berlin and Paris, said the two sources.
Related stories
Editor:Zhang Dan |Source: Xinhua