Watch Video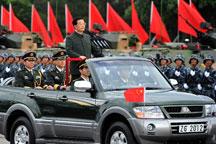 Play Video
President Hu Jintao is in Hong Kong to attend celebrations marking the 15th anniversary of the region's return to China. He will also witness the inauguration of the fourth-term government of the Special Administrative Region.
Hours after his arrival, President Hu Jintao met Donald Tsang. He told the outgoing chief executive, the central government fully recognized his work during his seven-year term of office.
Hu Jintao said, under the leadership of Donald Tsang, the Hong Kong SAR government has performed its duty in accordance with law and worked in a practical and enterprising manner. The Hong Kong SAR government has attained remarkable achievements, especially in coping with the impact brought by the global financial crisis, as well as in deepening exchanges and cooperation between Hong Kong and the mainland, and implementing policies to boost economy and improve people's livelihood. Tsang thanked the central government for its support for his work. Tsang said with the strong support of the central government and the hard work of the Hong Kong people, any difficulties could be overcome.
On Friday afternoon, President Hu Jintao also inspected the Chinese People's Liberation Army Garrison in the Hong Kong. Hu Jintao consecutively inspected troops in 15 formations of more than 3,000 soldiers. About 4,000 spectators observed the inspection. The PLA garrison is responsible for defense in Hong Kong since its return to China in 1997.
In his meeting with garrison officers, Hu Jintao spoke highly of the garrison for the performance of officers and soldiers in fulfilling various missions over the past 15 years. He urged the garrison to abide by the Basic Law and Garrison Law of the Hong Kong SAR, and putting the people in Hong Kong first, so as to make greater contribution for the city's long-term prosperity and stability.
Editor:Bai Yang |Source: CNTV.CN