BEIJING, June 30 (Xinhuanet) -- U.S. famous star Tom Cruise and his wife Katie Holmes are divorcing after five years of marriage, according to media report Saturday.
On Thursday, just five days before Cruise's 50th birthday, Holmes filed divorce papers in New York, leaving Cruise "deeply saddened."
"This is a personal and private matter for Katie and her family," Holmes' attorney Jonathan Wolfe said. "Katie's primary concern remains, as it always has been, her daughter's best interest."
Yet just in June edition of Playboy, Cruise's tone had been upbeat, saying he loved Holmes as much as when they got married nearly six years ago.
"She is an extraordinary person, and if you spent five minutes with her, you'd see it," he told Playboy. "Everything she does, she does with this beautiful creativity. She's funny and charming, and when she walks into the room, I just feel better ... What we have is very special."
Cruise, 49, and Holmes, 33, held a lavish wedding ceremony in an Italian castle in November 2006, seven months after their daughter, Suri, was born.
The couple's relationship continued to be a major source of public fascination over the next few years.
The marriage was Holmes' first and Cruise's third as the actor had earlier been married to actresses Mimi Rogers and Nicole Kidman. He had two children from his marriage with Kidman before their divorce in 2001.
Cruise is one of Hollywood's most recognizable stars, starring in "Taps" and "The Outsiders" before breaking out in the 1983 film "Risky Business."
Holmes was starred on the teen drama TV series "Dawson's Creek," which aired between 1998 and 2003.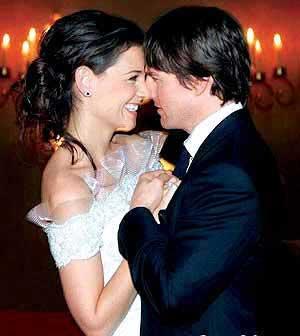 Tom Cruise and Katie Holmes (File Photo)
Related stories
Editor:Zhang Rui |Source: Xinhua