URUMQI, June 30 (Xinhua) -- A 6.6-magnitude quake jolted northwest China's Xinjiang Uygur Autonomous Region early Saturday morning, toppling houses and injuring 24 people, according to the latest official account.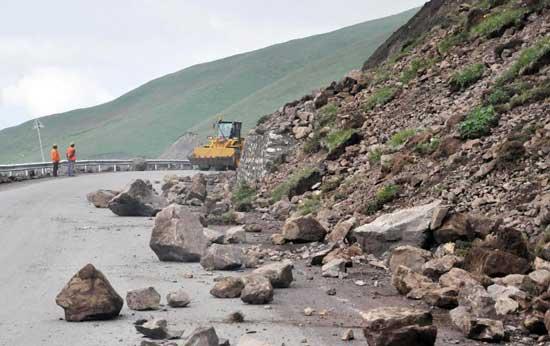 Photo taken on June 30, 2012 shows the site of landslide caused by a quake on State Highway
218 in Hejing County, northwest China's Xinjiang Uygur Autonomous Region. An earthquake
measuring 6.6 on the Richter scale jolted Xinjiang at 5:07 a.m. Saturday (2107 GMT Friday),
according to the China Earthquake Networks Center. The epicenter is determined at 43.4 degrees
north latitude and 84.8 degrees east longitude. (Xinhua)
Strong tremors were felt widely in the region, including the regional capital of Urumqi, shaking residents out of their beds and causing temporary blackouts when the quake occurred at 5:07 a.m.
The epicenter was found to be in a mountainous area along the border of Hejing and Xinyuan counties, according to the China Earthquake Networks Center (CENC).
A large number of residential houses were toppled or damaged in Xinyuan County, and hundreds of cattle were killed after their sheds collapsed, said a statement from the government of Ili Kazak Autonomous Prefecture, which administers Xinyuan.
The quake also triggered landslides and caused cave-ins on several national and regional highways in Xinjiang, bringing traffic to a halt.
The CENC has launched a level-three emergency response following the quake and local authorities have sent work teams and organized rescue efforts in affected areas.
Experts said the quake-hit region, located about 3,500 meters above sea level, was geologically active in history. Two earthquakes measuring more than 7 on the Richter scale have jolted the region since 1900.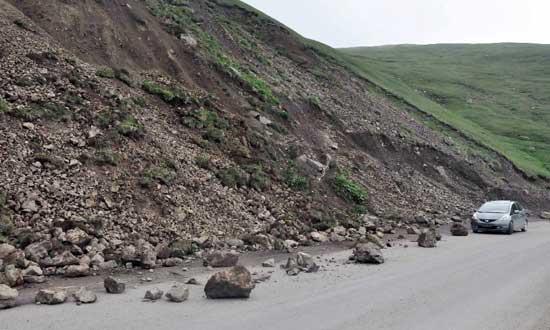 Photo taken on June 30, 2012 shows the site of landslide caused by a quake on State Highway
218 in Hejing County, northwest China's Xinjiang Uygur Autonomous Region. An earthquake
measuring 6.6 on the Richter scale jolted Xinjiang at 5:07 a.m. Saturday (2107 GMT Friday),
according to the China Earthquake Networks Center. The epicenter is determined at 43.4 degrees
north latitude and 84.8 degrees east longitude. (Xinhua)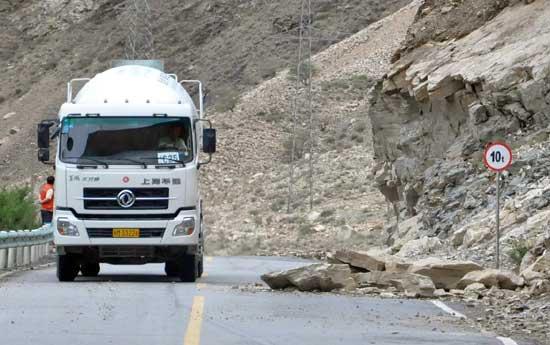 Photo taken on June 30, 2012 shows the site of landslide caused by a quake on State Highway
218 in Hejing County, northwest China's Xinjiang Uygur Autonomous Region. An earthquake
measuring 6.6 on the Richter scale jolted Xinjiang at 5:07 a.m. Saturday (2107 GMT Friday),
according to the China Earthquake Networks Center. The epicenter is determined at 43.4 degrees
north latitude and 84.8 degrees east longitude. (Xinhua)
Editor:Zhang Rui |Source: Xinhua