KARLSRUHE, Germnay, July 4 (Xinhua) -- Five people were dead during the confrontation between an armed kidnapper and the police in Karlsruhe, southwest Germany on Wednesday.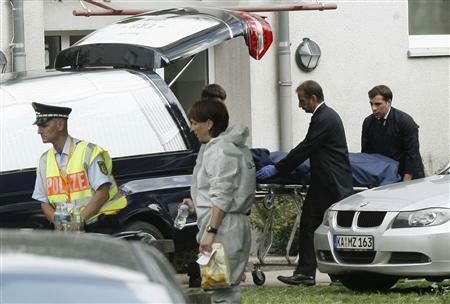 Undertakers load a body into a funeral car in Karlsruhe July 4, 2012.
Five people were shot dead after a gunman facing eviction seized hostages
in an apartment in the southern German city of Karlsruhe on Wednesday,
police said.
Police sources said that the kidnapper and all four hostages were killed in the shooting which broke out in the morning when two court bailiffs carried out a forceful eviction of the apartment as the gunman failed to pay his rent.
Fritz Bachholz, a police spokesman of Karlsruhe told Xinhua that special forces went into this attic apartment at some 11 a.m. local time where they found four male bodies and one woman's.
Local media initially reported that the four hostages included a bailiff, a locksmith, the flat-owner and a potential tenant, while police source said that dead woman was the wife or partner of the gunman.
Police closed off the crime scene in the residential area which neighbors two schools and kindergartens, and evacuated a number of blocks for safety reasons.
A girl living some 2 kilometers from the gunman's flat told Xinhua that she watched TV in the morning and was shocked.
"I used to hear about such kind of incidents on TV but this time it happened just near the neighborhood I am living in," she said, and added that she could not believe it at first.
The gunman was heavily-armed, with several hunting weapons and had not established direct contact with the police, said Bachholz, adding that the hostage-taker was having guns without permission.
Editor:Zhang Jingya |Source: Xinhua