PARIS, July 6 (Xinhua) -- Participants of the "Friends of Syria" meeting here on Friday were overjoyed when their host France confirmed the defection of a Syrian general and pledged more assistance to Syria's opposition.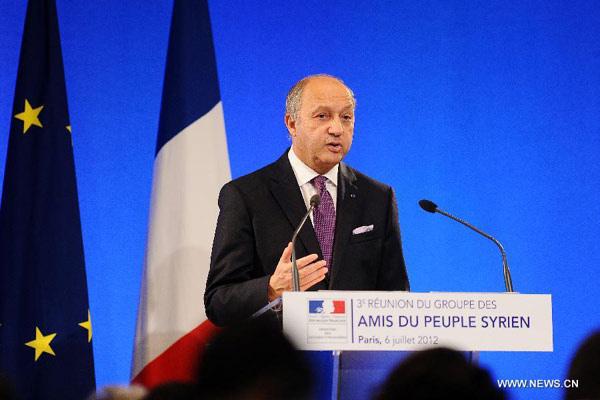 French Foreign Minister Laurent Fabius gives a press conference after the third meeting of the "Friends of Syria" group in Paris, France, July 6, 2012. "A senior official from the Syrian regime, a commander in the Republican Guard, has defected and is headed for Paris", Fabius said on Friday. (Xinhua/Laurent Zabulon)
Manaf Tlass, head of Syria's Republican Guard Brigade 105 and the son of a former defense minister, had defected and fled Syria, French Foreign Minister Laurent Fabius told about 100 diplomats and representatives.
Some Western and Syria's pro-opposition media outlets reported the defection of Tlass earlier this week, but the Syrian government has so far made no statement on these reports.
Though affirmative about Tlass's defection, Fabius was evasive about the whereabouts of the senior Syrian military official. He initially said Tlass was heading to France, where his sister lives, but then backtracked and said his destination was unknown.
The confirmation by Fabius has nonetheless triggered great excitement among the representatives, with many hailing the defection as the first major crack in President Bashar al-Assad's power base.
"Those with the closest knowledge of Assad's actions and crimes are moving away and we think that is a a very promising development," U.S. Secretary of State Hillary Clinton told reporters at the close of the conference.
The Paris meeting also decided to "greatly increase assistance to the opposition" by giving them tools to communicate more securely with each other and the outside world, and urged humanitarian aid for people trapped by fighting and support for Syria's future reconstruction.
In a related development, Geneva-based UN Human Rights Council adopted on Friday a resolution envisaging a post-Assad Syria, calling on all Syrians to deal with rights violations through reconciliation and legal processes.
Approved by a 41-3 vote in the 47-nation Human Rights Council, the resolution also urged Damascus to release all political prisoners and allow independent monitors to visit detention facilities.
Russia, China and Cuba voted against the resolution, saying it failed to mention any human rights violations committed by the opposition or terrorists.
On the same day, Russian Deputy Foreign Minister Gennady Gatilov called the introduction of a no-fly zone in Syria a "counter-productive" and "unilateral" step.
"We repeatedly pointed out at the counter-productiveness of various unilateral steps, such like proposals about the creation of the humanitarian corridors and safety zones," Gatilov told reporters in Moscow.
In a report to the UN Security Council, UN Secretary-General Ban Ki-moom suggested that the UN monitors deployed across Syria be reassembled in Syria's capital to work with government and opposition parties so as to bring about a political transition.
According to a draft of the report distributed to reporters, the UN chief outlined several options for the UNSMIS, or the UN Supervision Mission in Syria, which includes 300 unarmed military observers and more than 120 civilian staff.
One of them is to temporarily reduce the number of observers and focus on political engagement until fighting subsides.
"If UNSMIS were re-oriented in this manner, the Mission would redeploy from the field to the capital to minimize risks, retaining core civilian and military observer capacities to focus on the spectrum of initiatives feeding into the political process," Ban wrote in the report.
Related stories
Editor:Zhang Jianfeng |Source: Xinhua