China has expressed its regret over the death of a one-week-old panda at Tokyo zoo on Wednesday.
The cub was the first panda born at the zoo in 24 years. He died of pneumonia.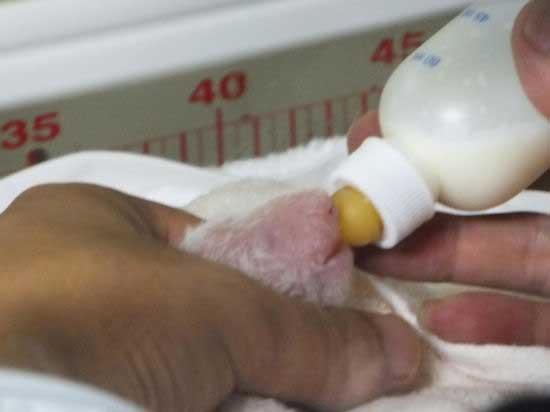 Female giant panda Shin Shin's new baby is helped to drink milk by a zoological park staff
member inside an incubator at Ueno Zoo in Tokyo July 9, 2012, in this handout photograph
released by the Tokyo Zoological Park Society. Zoo officials reported that the newborn giant
panda, born on July 5, has died from pneumonia. [Photo/Xinhua]
"We lament the loss of the cub and believe the Japanese people, who have been looking forward to seeing the cub will also lament this loss," Foreign Ministry spokesman Liu Weimin told a daily news conference.
The male cub, who was born on July 5 and had not been named, was found lying belly up and not breathing on his 7-year-old mother's chest on Wednesday morning, Tokyo's Ueno Zoo said.
He was pronounced dead an hour later after resuscitation efforts failed.
"It appears that when the baby was being breast-fed it may have inhaled some milk that caused pneumonia," Toshimitsu Doi, the head of the zoo told a hastily arranged news conference. Doi became emotional when speaking with reporters, choking up with tears and wiping his face with a handkerchief.
The panda's mother, Shin Shin, known as Xiannu in China, was leased from China to Japan in February 2011 with her partner, Ri Ri, a male panda known as Bili in China.
The two pandas were put on public view soon after Japan's devastating earthquake and tsunami in March 2011, giving the country some much needed good news.
The 144-gram infant had been kept in an incubator for three days before being given back to Shin Shin on Tuesday.
"They spent the night peacefully and the baby was doing fine just this morning," Yutaka Fukuda, the zoo's chief panda keeper, said as tears welled in his eyes. "It happened so suddenly, it's such a pity."
The panda was the first to be born at the zoo since 1988 and was conceived naturally. Pandas have a low birth rate and artificial insemination is common in captive breeding programs.
The much-anticipated cub had been celebrated across Japan, and its birth was closely followed in local media. On Wednesday the news of his death led the television news.
Japanese Prime Minister Yoshihiko Noda described the death as "very disappointing".
"We were all looking forward to the cub's development," Noda told reporters in Tokyo.
The zoo said it would set up an area for visitors to lay flowers and pray for the cub.
The young panda's short life was not, however, without controversy. On June 28 Tokyo Governor Shintaro Ishihara suggested the yet-to-be-born panda should be given a name inspired by "Senkaku", the Japanese name for China's Diaoyu Islands, also claimed by Japan.
Ishihara said he was not interested in Shin Shin's pregnancy, but suggested naming the baby Sen Sen or Kaku Kaku before sending it back to China.
The comments prompted China to urge Ishihara to cease any activities that could harm bilateral ties between the two countries and the image of the Tokyo Prefecture. After the panda's birth last week Beijing expressed hope that "people-to-people sentiment and overall relations between China and Japan" could be promoted by the cub's birth.
Pandas are regarded as envoys of friendship in China. Japan has previously celebrated the births of 16 giant pandas.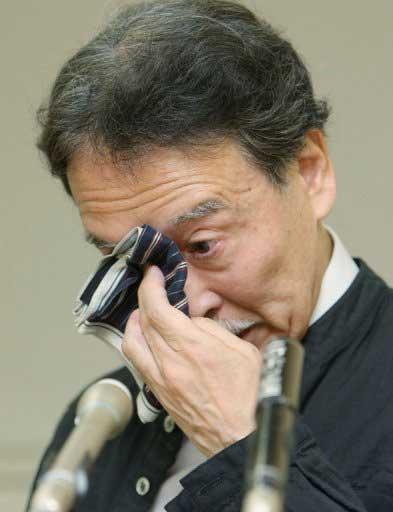 Ueno zoo director Toshimitsu Doi cries as he announces the death of
a giant baby panda.
Related stories
Editor:Zhang Rui |Source: China Daily