The Chinese Olympians at the London Games will receive a rousing musical boost.
China's flamboyant pianist Lang Lang teamed up Hong Kong superstar, singer-actor Jacky Cheung to record a Coca-Cola-sponsored cheer song, The Beats of China, Move The World, which should provide the Olympians with a final bit of inspiration and encouragement for the 2012 London Olympics.
Making its debut at Beijing Workers' Stadium on Thursday, the six-minute song saw Lang play fast and dramatically on the piano while Cheung sung in distinctive and charismatic way.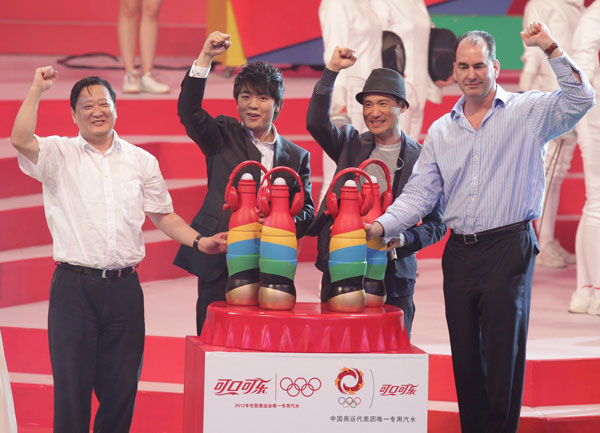 (From right to left) Robert Foye, Chief Marketing, Customer and Commercial Officer of Coca-Cola Greater China &Korea, Jacky Cheung, Lang Lang and Li Hang, Deputy Director General of Marketing Department of Chinese Olympic Committee, hail the birth of the Coca-Cola Olympic Cheering Song for Chinese Olympians. [Photo/chinadaily.com.cn]
"The song shows our immense support for all Chinese athletes," said Lang, who is a big fan of table tennis and diving. "The beat of the song is strong and uplifting, which rocks me."
The uniqueness of the song is that it is the result of the creative work of millions of Chinese; each one contributing their own creative beat, through a campaign launched three months ago in Beijing, titled Beat For China, Move The World, which called on the people to contribute to the "China Beat".
Almost 200 millions "beats" were contributed by people across the country and those creative beats were all recorded in the song. The beats rang from dance beats to the quirky sounds of everyday life, such as digitalized voices and even kitchen utensils.
"It's a fresh experience to sing such a song, which contains so many different sounds. But among all those sounds, Lang's piano sound is the best," says Cheung.
Having become a professional singer after winning a singing competition in Hong Kong in 1984, Cheung was one of the "Four Heaven Kings" of Hong Kong's music scene.
With almost 30 albums under his belt, Cheung, 51, was the first Hong Kong singer to win over the lucrative Mandarin-speaking market with his album, Goodbye Kiss, in 1993.
He jokes about his age, saying that Lang's energetic spirit drives him to work harder. He points out that the cooperation with Lang inspired him to seek more collaborations with the artist. "I've tried various music styles during my decades-long career. Now I want to try adding classical music into my pop songs," he says.
The pianist, who has captivated audiences around the world by combining his classical repertoire with pop-culture showmanship, is considered a national icon alongside sport stars such as basketball player Yao Ming and hurdler Liu Xiang. He has also composed a piano piece inspired by Liu, a close friend.
The pianist, who performed at the opening ceremony of the Beijing Olympic Games four years ago, will watch the opening ceremony on July 26. He will run the torch relay on July 22.
His cooperation with renowned director Zhang Yimou on a biographical movie about Lang is in production.
"You can see my busy schedule. It's hard to have a family in that situation," he said with a laugh.
Related stories
Editor:James |Source: China Daily