Journalists from all over the world were given a rare performance by China's attack helicopters on Tuesday.
The Army Aviation 4th Helicopter Regiment hosted 160 reporters, including 118 from 66 overseas media outlets, at its base in Beijing's Tongzhou district in a gesture of military transparency.
It is the first time the People's Liberation Army regiment has opened its doors to foreign media.
"The Chinese military is very transparent," said Geng Yansheng, spokesman for the Ministry of Defense. "Through your cameras and reports, we hope to let more people see this unit.
"We will continue organizing such visits," he said, adding it is the fifth such media event since 2008.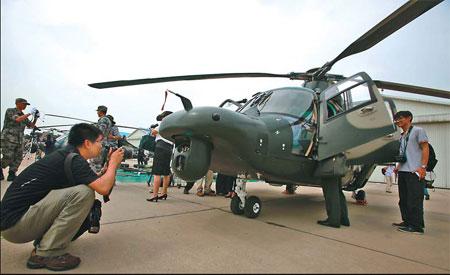 Journalists photograph a Z-9WZ helicopter during a group interview at a
military base in Beijing on Tuesday. Wang Jing / China Daily
Formed in 1988, the elite regiment is the first armed helicopter unit of the PLA. In the past three years it has hosted military delegations from Japan, Thailand and Australia.
On a sun-baked parking apron, the regiment's aircraft, including the Chinese-made Z-9WZ armed helicopters and a Russian Mil Mi-171 transport helicopter, were on display.
Pilots also performed stunts in four Z-9WZ helicopters.
According to military experts, army aviation is increasingly important for China's military strength. While other units of the PLA have been cut back in recent years, the aviation unit has been expanding, even establishing flight schools.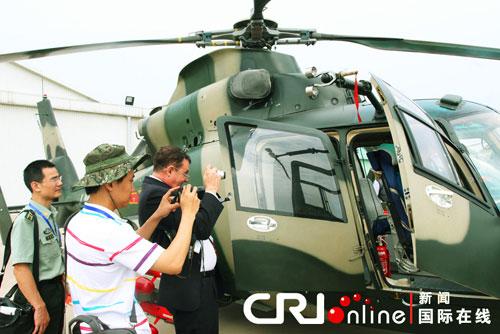 Chinese and foreign reporters take photos of a Z-9WZ helicopter while visiting the
military base of the Chinese People's Liberation Army (PLA) Army Aviation 4th
Helicopter Regiment on the outskirts of Beijing on Tuesday, July 24, 2012.
[Photo: CRI]
Related stories