By Jessica Stone, CCTV Washington Correspondent
To one of his commanders, Private Danny Chen was a soldier to save. At the Fort Bragg Courthouse Friday, Sergeant William Zade described Chen as "physically weak", saying he "didn't have the strength" or "the mindset." Adding quote:"We had to prod him to learn." He was teaching him to drive one of the U.S. Army vehicles on patrol when Chen took his own life.
Zade testified, Friday, in the trial of Sergeant Adam Holcomb, 30, who is one of eight U.S. Army soldiers charged in Chen's death.
Kandahar, Afghanistan was "no place to learn" on the job. The base was surrounded by easy cover for insurgents, and Zade said he had half the number of soldiers he needed. Danny arrived without important training. Soldiers say he repeatedly forgot equipment and water - even falling asleep on guard duty. He was not permitted to go on patrol. He hadn't past the "test" for new soldiers who were required to jump sand barriers with more than 60 pounds of equipment on their back in desert conditions.
Chen was often disciplined, some soldiers testified "more than other soldiers."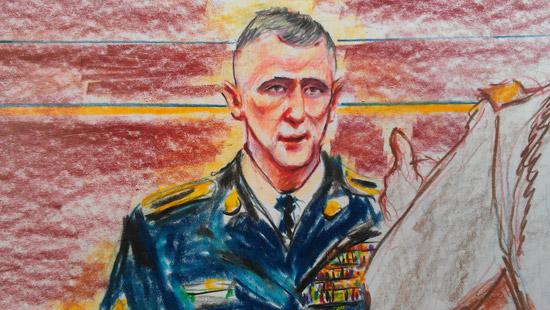 William Zade sketch (Courtesy: Jerry McJunkins)
Holcomb is accused of racially hazing and abusing Chen for six weeks, including dragging him 40 yards across gravel as punishment for leaving a water heater on. PFC Nicholas Sepeda testified it seemed Danny got punished "for no reason at all." Sepeda says he took pictures of the scrapes on Danny's back after the dragging and reported his concerns. Just a few hours before his death, Sepeda says he saw Danny ordered to crawl across gravel...while two other soldiers "threw rocks at him" and "yelled incoming." "I didn't think it was right" said Sepeda.
Danny's fellow soldiers testified there was good reason for Danny to feel alone here. PFC Justin Christiansen told the jury that Danny didn't expect any care packages "because his parents disowned him as soon as they found out he joined the military." Zade told the jury he tried to get Danny to "call his mom" at the first opportunity and was surprised when Danny returned "five to ten minutes later." According to court testimony, When Zade asked him if he had called anyone, Danny admitted he hadn't because "they weren't talking." Zade said he didn't think the relationship ever changed.
Holcomb's attorneys say problems with his parents caused Danny to commit suicide, not hazing. But Christiansen also testified that a few days later Danny told him, "He and his parents had made up."
Only one soldier says he reported that Danny was considering suicide, choosing a superior outside the command outpost. But that superior has now testified that he never heard that Danny Chen was suicidal.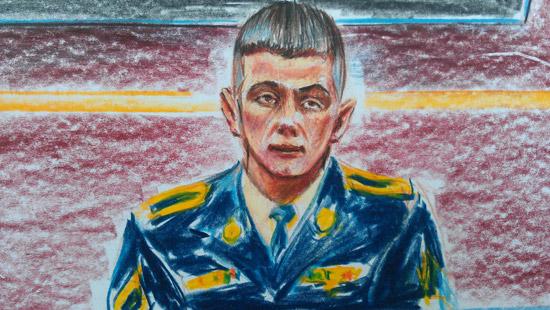 PFC Nicholas Sepeda (Courtesy: Jerry McJunkins)
Related stories
Editor:Wang Chuhan |Source: CCTV.com