LONDON, July 29 (Xinhua) -- Defending champion Guo Wenjun won the fifth gold for China after a breathtaking final on women's 10m air pistol event here on Sunday.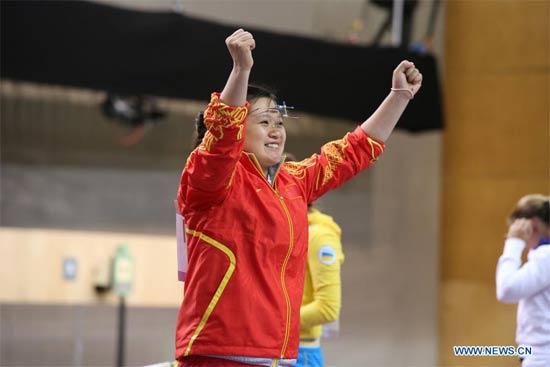 Guo Wenjun of China celebrates after winning women's 10m air pistol final at
the London 2012 Olympic Games in London, Britain, July 29, 2012. Guo Wenjun
of China claimed the title in this event. (Xinhua/Yin Gang)
Guo scored 488.1 points to pocket the gold medal. It was China'e first gold on Sunday and the fifth in total after harvesting four golds on the very first competition day.
Celine Goberville from France and Kostevych from Ukraine levelled on 486.6 points. Goberville made a wonderful 10.6 in the shootoff, beating the 9.7-point Kostevych to collect the silver. Kostevych got the bronze.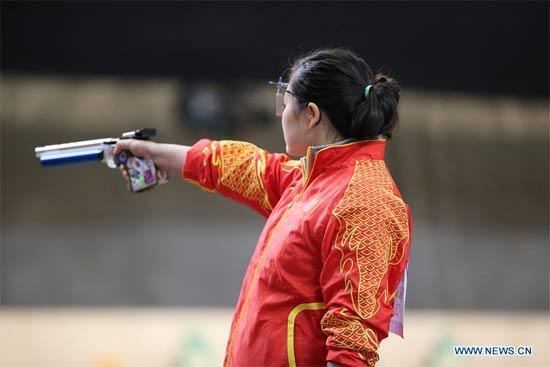 Guo Wenjun of China competes during women's 10m air pistol final at the London
2012 Olympic Games in London, Britain, July 29, 2012. Guo Wenjun of China claimed
the title in this event. (Xinhua/Yin Gang)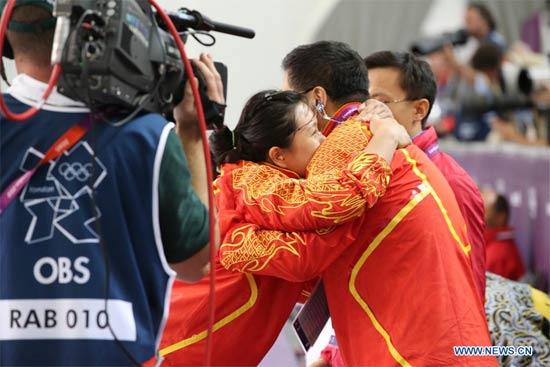 Guo Wenjun (L) of China hugs her coach after winning women's 10m air pistol final
at the London 2012 Olympic Games in London, Britain, July 29, 2012. Guo Wenjun
of China claimed the title in this event with 488.1.(Xinhua/Yin Gang)
Related stories
Editor:Zhang Jianfeng |Source: Xinhua