Ye Shiwen, who was in the center of doping speculation after her world record-breaking performance in the 400m IM on Saturday, won the 200m IM in an Olympic record time of 2:07.57.
The 16-year-old Ye needed a typical strong final freestyle leg to overtake Australian Alicia Coutts, who produced a strong third lap on the breaststroke to momentarily take the lead.
"I didn't expect the others to swim so fast, I was surprised, but I couldn't lost the race," said Ye, who added the recent accusations of doping had not affected her.
Earlier on Tuesday, IOC communications director Mark Adams came to the defence of Ye, saying all medal winners are drug tested and there is no evidence against Ye.
"We have a very strong drugs testing program. And we're very confident that if there are cheats then we will catch them," said Adams.
"She is a victor. She is not a doper," he added.
In the first final of the night, American Allison Schmitt won the 200m freestyle in a dominant fashion in an Olympic record time of 1:53.61. France's Camille Muffat got silver in 1:55.58, almost a body length behind, while Bronte Barrett of Australia was third.
Ye Shiwen breaks world record and wins women's 400m medley gold>>
Ye Shiwen wins women's 200m individual medley>>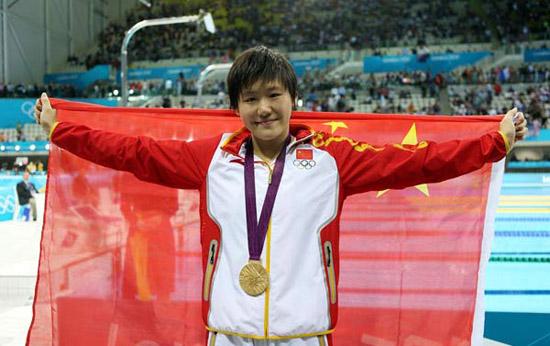 Gold medalist Ye Shiwen of China poses after the awarding ceremony of women's 200m
individual medley swimming event at London 2012 Olympic Games in London, Britain,
on July 31, 2012. Ye Shiwen won the gold medal of the event with a time of 2:07.57
and set a new Olympic Games record. (Xinhua/Fei Maohua)
Related stories
Editor:Wang Chuhan |Source: Xinhua