LONDON, Aug. 7 (Xinhua) -- The recent two-time injury worries hinted that Chinese star hurdler Liu Xiang cannot compete in full health for the London Olympics.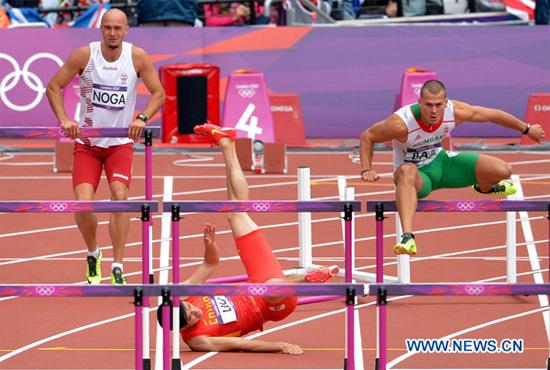 China's Liu Xiang (C) falls during men's 110m hurdles heat at London 2012 Olympic
Games, London, Britain, Aug. 7, 2012. Liu Xiang was disqualified for semifinal.
(Xinhua/Chen Xiaowei)
Liu, who crashed out of men's 110m hurdles as he hit the first hurdle in heat 6 on Tuesday, has been reported as been bothered by injuries in the recent months.
On July 13, Liu, running here on his 29th birthday, finished the heats but the side stitch forced him out of the finals at London Diamond League, which was his last competition before Olympics.
"He felt uncomfortable after the heats. Before we came here, Liu Xiang sometimes felt pain in the chest when breathing especially during training and competitions," Liu's long-time coach Sun Haiping told Xinhua at south London's Crystal Palace stadium on that day. "We decided to pull out of the finals just for the sake of caution."
Just three weeks later, on his return from Germany training camp to London, Liu's coach Sun Haiping told Xinhua Liu got further injury worries.
"The side stitch has gone. But in Germany, Liu felt pain in the foot where his old injury was. The doctor there said it was not serious. But I don't think so. I want to examine it further in London because I still worry about it," said Sun on August 3 at Heathrow airport.
"At Olympics, you have three races. It is a big test for Liu's body. If we can enter the final, we will definitely fight. But I'm worried about his foot," added by Sun.
Liu, the Athens Olympic champion and former world record holder, withdrew at the last moment due to foot injury at Beijing Olympics four years ago.
Related stories
Editor:Zhang Jianfeng |Source: Xinhua