LONDON, Aug. 28 (Xinhua) -- China's wheelchair racer Zhang Lixin has been selected as the flag bearer for the Chinese team at the opening ceremony of the Paralympic Games to be held here on Wednesday night.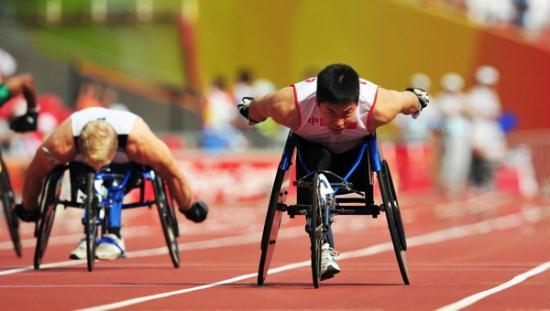 Zhang Lixin competes during the men's 200 meter T54 event at the Beijing Paralympics in
this Sept 14, 2008 file photo. Chinese Paralympic delegation announced on Tuesday that
Zhang has been picked as the flag bear for the team at the opening ceremony of London
Paralympic Games which will be held from Aug 29 to Sept 9. He won four gold medals at the
Beijing Paralympic Games.[Photo/Xinhua]
"It is a great honor to bear the national flag at the opening ceremony," Zhang said. "I also want to share the happiness with all the disabled people in China."
Zhang, who had one leg amputated at the age of 16 for suffering from a tumor, won four gold medals in the men's T54 category.
He was the flag bearer at the closing ceremony of the Beijing Paralympic Games in 2008.
As the captain of the Chinese national wheelchair racing team, Zhang said South African sprinter Oscar Pistorius was the example to follow.
"Every Paralympian should learn from him," Zhang said.
Zhang, 29, will compete in three events at the London Paralympic Games.
"As the captain, it's my responsibility to lead my teammates to win as many gold medals as possible," Zhang said.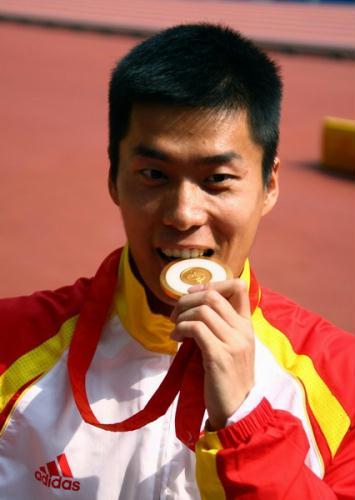 Zhang Lixin bites the gold medal after wining men's 200
meter T54 event at the Beijing Paralympics in this Sept 14,
2008 file photo. [Photo/Xinhua]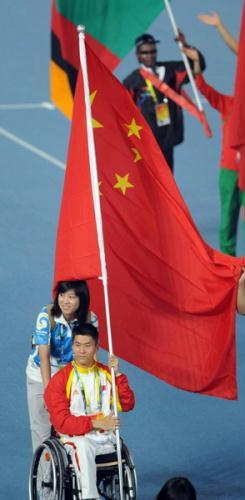 Zhang Lixin, a Chinese Paralympian athlete
holds a national flag during the closing
ceremony of Beijing Paralympmic Games in
this Sept 17, 2008 file photo. Chinese
Paralympic delegation announced on Tuesday
that Zhang has been picked as the flag
bear for the team at the opening ceremony
of London Paralympic Games which will be
held from Aug 29 to Sept 9. [Photo/Xinhua]
Editor:Zhang Dan |Source: Xinhua