Government departments and enterprises in Beijing have been asked not to hold large conventions and to introduce flexible working hours to help ease traffic gridlock in September, which is expected to have the most congested traffic of the year.
The Beijing Municipal Commission of Transport said that September will see the start of a new school semester and many relatives and friends will visit the city in the weeks leading up to the eight-day Mid-Autumn Festival and National Day holiday, which will last from Sept 30 to Oct 7.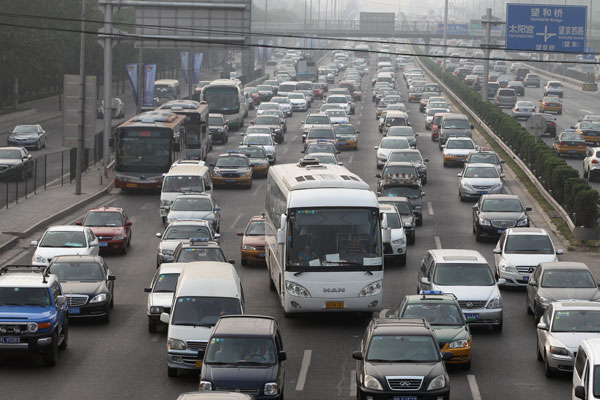 Traffic congestion at Siyuanqiao in Beijing at Wednesday dusk. Feng Yongbin / China Daily
The commission suggested governments at the city and district levels, as well as public institutions and State-owned enterprises, avoid organizing large conventions or events at that time and instead consider holding videoconferences or meetings over the telephone.
The commission also called on businesses and public institutions not to insist their employees be in the office at specific hours, especially on days when traffic is likely to be heaviest or when the weather during rush hour is likely to be bad.
The city also plans to put contingency plans into effect if roads collapse, culverts flood or other emergencies arise.
The commission aims to provide enough public transportation to carry 5.5 percent more passengers this September than last year.
It hopes to keep the average score on the Traffic Performance Index - a gauge of traffic congestion - below 6 on workdays during the month.
A score from 0 to 2 indicates that traffic is flowing smoothly, from 4 to 6 indicates light congestion, from 6 to 8 indicates moderate congestion and from 8 to 10 indicates severe congestion.
At the end of 2010, Beijing placed limits on how many new vehicles could be registered locally. The government also increased parking fees and improved public transportion.
Those measures are credited with helping lower the city's Traffic Performance Index score from 6.1 that year to 4.8 in 2011.
Other measures the city will take to ease traffic congestion in September include opening new bus routes, increasing the frequency of buses and making it easier to take buses after getting out of subway stations.
Beijing will also put in 6,000 new bicycles for rent at bus stops and subway stations. A total of 11,000 parking spaces will be constructed in September.
Wang Zhiling, a 28-year-old Beijing resident,said: "My work place is near a primary school, and there is a traffic jam almost every day there when the new school semester begins and a lot of parents drive to send and pick up their children."
"I will probably temporarily give up driving to work and take the subway instead," she added.
Related stories
Editor:James |Source: China Daily