TAMPA, United States, Aug. 30 (Xinhua) -- U.S. Republicans concluded their quadrennial convention Thursday with a prime-time speech by new standard bearer Mitt Romney to make his case for the presidency.
By focusing on economic issues, Romney is playing to his strength and steering the election to a direction that could be more favorable to him.
"What America needs is jobs," said Romney. "Lots of jobs."
Romney used the opportunity to lay out a five-point plan to create 12 million jobs in four years, should he win the election.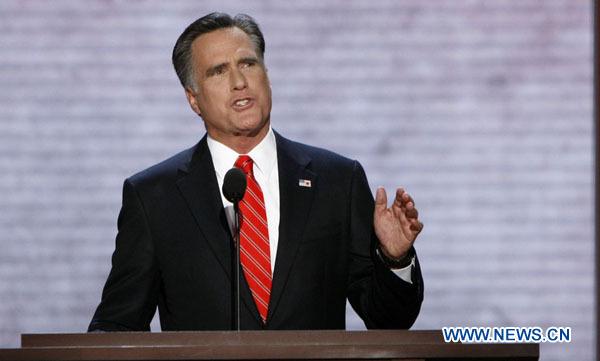 Former Massachusetts governor Mitt Romney speaks during the Republican National Convention in Tampa, Florida, the United States, on Aug. 30, 2012. Mitt Romney on Thursday night accepted U.S. Republican Party's nomination to run against President Barack Obama in the coming election. (Xinhua/Fang Zhe)
He said he will take full advantage of U.S. natural, nuclear and renewable resources to achieve energy independence by 2020; make sure education gives citizens the skills they need for the jobs of today and the careers of tomorrow; forge new trade agreements and make sure countries play fair.
Romney also said he will protect investment in the United States and cut deficits to put the nation on track to a balanced budget.
Lastly, he pledged to cut taxes, simplify regulations, and rein in the "skyrocketing cost of healthcare by repealing and replacing Obamacare."
PLAYING TO HIS STRENGTH
The focus on economy is almost a no-brainer for the Romney campaign, since polls have shown that American voters see him as a "fixer" to economic woes, while they view Obama more favorably as a person.
A Gallup poll released Thursday showed Romney holds a 9-point advantage over Obama in his handling of the economy, and a 15-point advantage in dealing with the federal budget deficit, two of the most pressing issues of the election.
But that does not guarantee Romney's triumph in November. In fact, it is far from certain. Obama holds a significant advantage in the "likability" department, beating Romney by 23 points at the same poll, while holding a 16-point edge on caring about the needs of ordinary people. Obama is also viewed as more honest and trustworthy by voters.
The distance voters felt toward Romney is probably compounded by the fact that the Obama campaign has made the "biggest negative ad dump" of this election cycle in July and August, according to Professor Peter Feaver, a political scientist with Duke University.
So, to keep the focus on economy and blow distractions away, Romney has to project a more accommodating image.
The Romney campaign surely made every effort to make that happen. They shifted the schedule of things as Hurricane Isaac approached, and gave Ann Romney a significant task of humanizing her husband.
Spouse's testimonies about a nominee can play a significant part in voters' choice at the polling station, said Republican strategist Karl Rove at a pre-convention briefing in Tampa. Voters have to know more to choose the holder of the highest office of the nation, he said. [ Romney also used his own speech to tell his own story, saying "to make that choice, you need to know more about me and about where I will lead our country." He continued to recount the history of his family, his tenure as Massachusetts governor, and the years he spent in the private equity firm Bain Capital.
PIVOTING TO THE MIDDLE
Romney used the convention to sell himself as a president, not an ideologue who is likely to win over die-hard conservatives, showing that he started to pivot to the middle after a bruising primary and pandering to the right.
How successful the strategy is will make a difference in whether Romney will win the election. Recent media analyses have shown that the election might be decided by about 900,000 undecided voters in six swing states.
The undecided are mostly voters who aren't so concerned with ideological issues, but more focused on everyday life, and therefore are more likely to be moved by a candidate's economic plans, Professor John Pickering, a political scientist with Lynn University, told Xinhua.
Sean Monroe, a resident of Tampa, is one of the undecided. He told Xinhua that he has heard a lot of things both ways, and seen a lot of the commercials both ways. But he just hasn't dug in enough to make up his mind.
Obama and Romney will also face off at three debates in October. Professor Pickering said after the debates, people will probably have a clearer idea on who they will pick to be the next president.
Editor:Hu Pengcheng |Source: Xinhua