Watch Video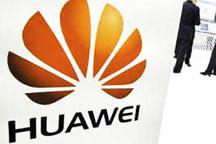 Play Video
US lawmakers have alleged so-called security threat from Chinese telecom giants Huawei and ZTE. The two Chinese tech companies have denied such allegations.
But the U.S. House of Representatives' Intelligence Committee said it will release findings of a nearly year-long investigation of the alleged security risk on Monday local time.
Huawei and ZTE have had a tough time in the US, and now, it's going to get even tougher.
The black listing of the two Chinese tech giants, comes amid U.S. allegations that the companies are involved in economic espionage and could pose a risk to the country's telecommunication infrastructure.
A draft report by the House Intelligence Committee dominated by the Cold-War thinking, says the two firms "can't be trusted" to be free of influence from the Chinese government and could be used to undermine US security.
In response, China's foreign ministry has warned the US not to harm the interests of both countries.
Hong Lei, spokesman of Chinese Ministry of Foreign Affairs, said, "Investment by China's telecommunications companies in the United States showed the countries have mutually beneficial relations. We hope the US will do more to benefit the interests of the two countries, not the opposite."
The firm's top executives appeared at a hearing held by the panel last month, stressing that they were focused on business, not politics.
Charles Ding, Huawei Vice President, said, "It would be immensely foolish for Huawei to risk involvement in national security or economic espionage."
Zhu Jinyun, ZTE Vice President, said, "Would ZTE grant China's government access to ZTE telecom infrastructure equipment for a cyber attack? Mr. Chariman, let me answer emphatically: no!"
Both Huawei and ZTE have rejected the allegations that their expansion in the United States poses a security risk and have denied any ties with the Chinese government.
Huawei said that it was "globally trusted and respected."
Although being the second largest telecom equipment maker in the world, the company has already had to drop several of its attempts to expand in the US -- due to allegations from U.S. lawmakers.
Related stories
Editor:Zhang Dan |Source: CCTV.com