by Colin Speakman
BEIJING, Oct. 22 (Xinhuanet) -- Beijing must be thinking that the American presidential election in November cannot come too soon after a prolonged period of the two candidates trying to outdo each other on who is tougher on China.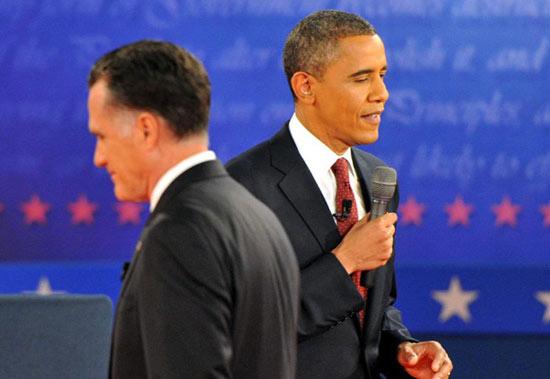 U.S. President Barrack Obama (R) and Republican presidential nominee Mitt Romney attend their second presidential debate at Hofstra University in Hempstead, New York state, the United States, Oct. 16, 2012. (Xinhua/Wang Lei)
Compared with many Western nations where election campaigns run a few weeks (just two weeks in the United Kingdom), the United States has a long history of drawn-out contests, which distracts an incumbent president seeking re-election for at least the final year of his first term in office. During that period there is a tendency for less to get done as the U.S. president hopes for re-affirmation of his support. Should the rival succeed, there is the time lag to taking office, getting settled in, developing a new team and implementing policy.
Of course, how fast things move after either result also depends on the balance of power in U.S. Congress. It is said that many Americans favor a stabilizing factor of a president from one party and a Congress with a majority for the other party to prevent extreme change.
However, as the managing director of the IMF stressed at recent meetings, now is the time for action in a fragile world economy. The next U.S. president will need to take action, whoever he is, but it is more likely to be in areas that boost mutual ties between the U.S. and China than in confrontation despite all the rhetoric and China being made the scapegoat.
U.S. President Barack Obama was elected in 2008 promising to go to the mat with China over unfair trade. There were early suggestions that U.S. Secretary of Treasury Timothy Geithner would label China a "currency manipulator" but that did not happen. If elected U.S. president, Mitt Romney would probably have to take that step after campaign promises, but it is not clear how much of the subsequent actions that triggers will actually be followed through.
If we ask what American voters want from a new administration, the answer would revolve around hope that the U.S. would reverse a decline in the international competitiveness table for four successive years, a decline which has left middle class Americans no better off than 10 years ago (a "lost decade"), that has seen 45 million Americans descent into poverty, that has seen concerns rise over educational standards in schools. In other words, it is about restoring "the American Dream".
There is concern over inequality, and the 99 percent versus the 1 percent. Of course, some concerns depend on who one is. And, as Romney put it, but not intended for a wide audience, there are probably 47 percent of Americans dependent on state provisions who will only vote Democrat. Fundamentally as unemployment still hovers around 8 percent (a figure believed to be lower than reality, as a result of discouraged workers who have stopped looking for jobs), it is about hope for employment - good, well-paid jobs.
Here is where China comes in as the perfect scapegoat for the job shortages in the U.S.. Yet China provides many products for American multinational companies at low costs and low margin that make more money and create more jobs back in the U.S. further up the value chain. Ask Apple, for example. Ask also why is it that whenever Washington seeks to impose punitive duties on American imports from China, a relevant U.S. industry body comes out to criticize the decision on the basis of the jobs that will be lost in America as a result, and economists draw attention to the impact of higher prices for U.S. consumers in an economic downturn.
In reality, it is not clear how the "American Dream" can be restored by confronting China, provoking retaliation and sending the global economy into a decline. It is not clear how American competitiveness can be restored by using protectionism to keep out Chinese products. It is not clear, either, how more jobs can be created in the U.S. by blocking job-creating investment in America by Chinese companies or failing to cooperate on win-win policies which involve more exports to China.
However, all of this will be clear once the new term of the administration gets underway. Washington has enough problem areas in the world to focus on and it is impractical to have a policy of economic confrontation between the two largest economies in the world.
The debates and campaigns have been exciting, the rhetoric sometimes amusing and who knows what a cliffhanger the U.S. election day will bring. But when all is done and dusted, whatever the outcome, it will then be time to recognize that the U.S. and China are rowing the same boat in very choppy economic waters. Let us all row together and prosper together.
The author is an economist and director of China programs at CAPA International Education, a UK-US based organization that cooperates with Capital Normal University and Shanghai International Studies University.
Related stories
Editor:Lu Jiaying |Source: China Daily