A proposal by Beijing to tackle the Syrian crisis "region by region and stage by stage" could be adopted by the UN peace envoy, experts said.
The parties in Syria should designate plenipotentiary negotiators to establish a transitional government, Foreign Minister Yang Jiechi told UN-Arab League special envoy to Syria, Lakhdar Brahimi, during their meeting in Beijing on Wednesday.
China's suggestion is likely to be adopted as a basis for Brahimi's new proposals to the United Nations Security Council next month.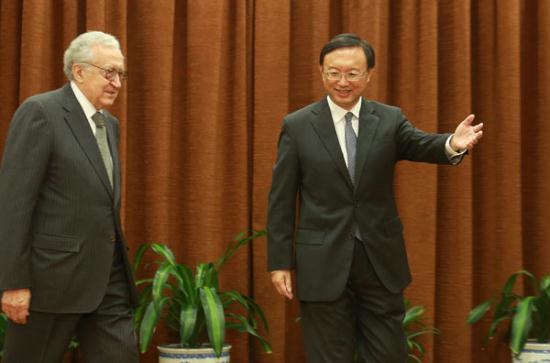 Foreign Minister Yang Jiechi greets UN peace envoy Lakhdar Brahimi in Beijing on Wednesday. [Photo/Agencies]
Brahimi, a 78-year-old veteran diplomat, has visited Turkey, Saudi Arabia, Qatar, Iran and Russia since he took up the position in early September to try to broker a peace deal.
Yang told the envoy that the situation in Syria is at "a critical stage".
The meeting came days after a truce Brahimi proposed, over the Eid al-Adha holiday, failed to take hold.
The government of Syrian President Bashar al-Assad and the opposition accused each other of violating it.
Yang called for parties to cease fire immediately and start the process of a political transition.
It must be the Syrian people who decide the future of the country, he said.
The international community should fully support Brahimi's mediation efforts with a greater sense of urgency and responsibility, the minister said, adding that humanitarian aid to the country must be boosted and not be politicized.
Estimates put the death toll in the 20-month conflict at more than 20,000. Most of the casualties and fatalities are civilian, Xinhua News Agency reported.
A further 2.5 million Syrians urgently need humanitarian aid, and 340,000 are seeking refuge in Lebanon, Jordan, Turkey and Iraq, according to the UN.
Analysts said the proposal is consistent with China's stance.
Ruan Zongze, vice-president of the China Institute of International Studies, said the gradual cease-fire China proposed is more pragmatic now since the large-scale fighting in Syria cannot be halted immediately.
Appointing representatives is a pressing task but it faces obstacles over questions of credibility and acceptability, he added.
Brahimi told Yang he is expecting China to play an "active role" in the process to bring peace to the country.
He appreciated China's efforts to solve the crisis through a political approach, which he said is the only feasible way to solve it.
Brahimi said earlier that the crisis was "extremely dangerous" and the situation was worsening.
The opposition in Syria demands that Assad steps down before negotiations can be held. Damascus said there should be no pre-conditions.
Dialogue holds the key to the crisis, said Firas Sawah, an independent Syrian scholar currently teaching at Beijing Foreign Studies University.
Assad stepping down won't necessarily help political reforms, he said.
Hua Liming, a former Chinese ambassador to Iran and an expert of Middle East studies, said Brahimi is seeking the formula for a plan that can gain wide acceptance. This time, timing could be on his side.
"The government, locked in conflict, is more eager to find a peaceful resolution than before, while external powers, including the United States and the NATO, have said they have no intention of intervening in Syria."
The West is pushing for regime change while China and Russia insist on solving the issue through peaceful means.
Foreign Ministry spokesman Hong Lei said on Wednesday that more and more countries have realized military means will not solve the Syrian crisis.
Reuters and AFP contributed to this story.
Related stories
Editor:Lu Jiaying |Source: China Daily