Massive storm Sandy could slow growth in the already weak US economy to as little as 1 percent in the fourth quarter.
But the wide range of forecasts from analysts reflected how hard it is to gauge Sandy's impact on such a large and economically diverse region of the country.
A large chunk of property that was damaged as the storm raged through New Jersey, New York and beyond will be rebuilt or repaired, ranging from power plants and subway systems to beachfront towns hammered as Sandy struck the shore.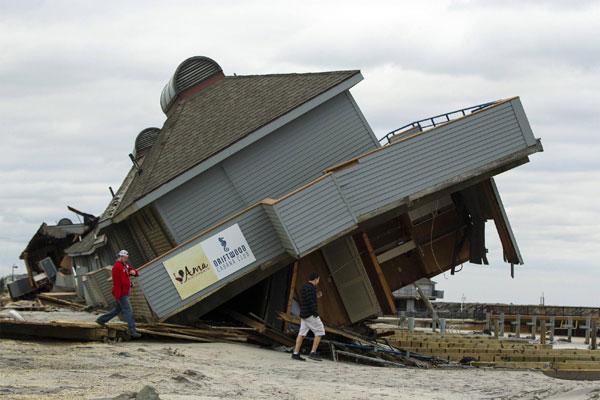 Men inspect damage to a beach club destroyed by Hurricane Sandy in Sea Bright, New Jersey, October 31, 2012. The US Northeast began crawling back to normal on Wednesday after monster storm Sandy crippled transportation and knocked out power for millions. [Photo/Agencies] More photos
The benefits of that construction activity will come mostly next year, giving a lift to the economy, which is likely to remain weak, and potentially making up for much of the fourth quarter's losses.
"We'll probably lose half a percentage point in the fourth quarter from here," said University of Maryland professor Peter Morici. "That can drag growth down to the range of 1 percent. Certainly a half a percentage point in the current environment is a lot."
The U.S. economy was expected to grow 1.8 percent in the October-December period, according to the median forecast in a Reuters poll of economists published earlier this month.
Consensus for how much Sandy would reduce that pace of expansion was hard to find.
"The initial impact on the economy could be quite large," wrote Paul Ashworth of Capital Economics, a London consultancy, in a note to clients.
But he noted that assuming that the storm shut down all output for the 12 affected states in New England and the Mid-Atlantic region would "undoubtedly" overstate losses, complicating any calculations.
In contrast, analysts from JPMorgan held their GDP forecasts steady at 2.0 percent for the fourth quarter - at least for now.
JPMorgan said part of the impact that Hurricane Katrina had on the U.S. economy - it slowed sharply in the quarter after the 2005 disaster but bounced back quickly - was due to damage to fuel refineries that put pressure on the price of gasoline for more than two months. While some refineries were affected by Sandy, any effects on the price of gasoline were likely to be short-lived, the bank said in a note to clients.
The wide range of estimates underscores the difficulty of pinning down what a storm such as Sandy actually does to the places that make up the economy and the people whose lives are disrupted by the damage.
More than 5.7 million homes and businesses remained without power - including a significant slice of lower Manhattan - on Wednesday. President Barack Obama visited devastated areas of New Jersey with Governor Chris Christie.
While Sandy has drawn comparisons to previous disasters such as Irene, which hit the New York area last year, and Katrina, the massive hurricane that crippled New Orleans in 2005, every weather event has its own patterns.
Related stories