Because of the high altitude, Tibet is known as snow-covered area and a winter tour there is taken no account of by most tourists. However, we still suggest our readers should plan a winter trip in Tibet due to the following reasons.
An undated photo shows a Tibetan gilr named Drolma
herding the sheep in northern Tibet, southwestern China.
[Photo/Xinhua]
With its flat land and mild weather, Lhasa is free of both freezing winters and unbearably hot summers, having an annual average daily temperature of 8 degrees C (43 degrees F). It enjoys more than 3,000 hours of sunshine annually. In fact it is called the "sunlit city." In winter, it rarely snows in Lhasa.
The bright sun in the cerulean heats every creature that takes in salubrious air. It shines the golden roofs of Potala, Jokhang, Sera, and Drepung and Kyichu River flows with the glory. In the distance Yumbulagang shands alone in Yarlung River Valley, where there is the cradle of Tibetan civilization.
Tourists find much the same in other places, such as Nyingchi and Shigatse.
Though night is cold and you can always find a warm room, out of whose window a splendid starred welkin is beheld. One-day trip to Namtso is worthwhile, for Mt Nyainqentanglha, the holy mountain of the whole northern tribes, often raise its while head above cloud in winter time. Visiting the Base Camp is also possible. One can even cross Himalayas into Nepal and winter is the best time to visit Nepal.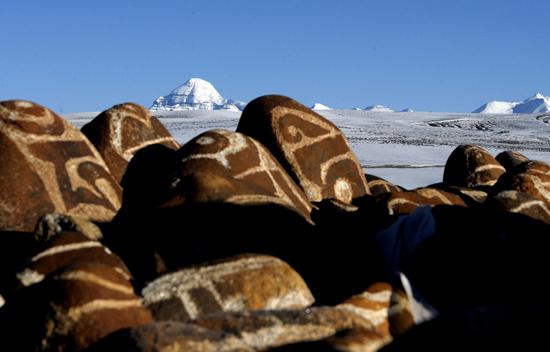 The mani stones in Tibet.