Over a thousand black-necked cranes have flied from the frozen Changtang Grassland in northern Tibet to Linzhou County of Lhasa to spend the winter, Xinhua reported.
Tibet's black-necked crane is used to migrating from the original habitats to Lingzhou County, where the temperature is relatively high, between mid to late Oct. and in late March, and flying back when the weather warms up, according to Zhang Linbao, head of the Forest Administration of Lingzhou County.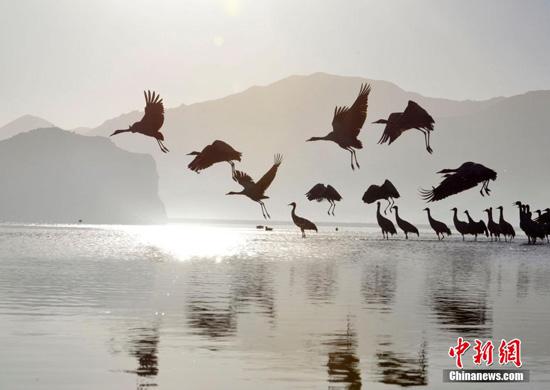 Photo taken on Dec.10th, 2013 shows a herd of black-necked cranes playing on the water in
the Hutoushan Reservoir in Lhunzhub County of Lhasa, capital of Tibet.
[Photo/Chinanews.com]


"According to our experience, the migration has ended this year. The population is estimated at over one thousands," Zhang added.
Villagers volunteered to set up a patrol team to help the black-necked crane live through the winter smoothly. Awang Pincuo, 54, once rescued two wound black-necked cranes and took care of them until they were healthy enough to go back to the nature.
In addition, a monitoring platform was built to keep an eye on the health of the black-necked cranes, the epidemic disease in particular.
Set up in 1993, the Linzhou Black-necked Crane Preservation Zone covers an area of 96 sq.km. Mainly relying on agriculture, the Lingzhou County provides abundant food for the black-necked crane, who eats the provenders left over by the farmers in the field.
The black-necked crane is the only crane species lives and multiplies in highland area.
Apart from Lingzhou, there are several other winter inhabits for the black-necked crane in Tibet, making Tibet the biggest inhabit of the black-necked crane in the world. According to the White Paper on the Development and Progress released by the State Information Office in 2013, the population of black-necked crane in Tibet has added up to some 7,000 thanks to the effective protection measures these years.
Editor:Zhang Hao |Source: Tibet.cn