China has increased its efforts to find the missing Malaysia Airlines plane by dispactching two additonal ships to the search area west of Perth, Australia. The Chinese navy and air force have received praise from the international community for their well organized efforts in the search operation.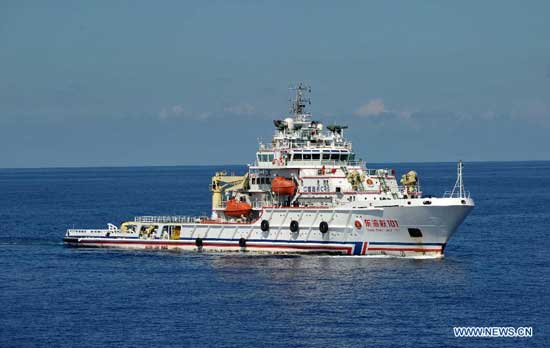 Chinese rescue ship Donghaijiu 101 heads to the waters where Australia
spotted floating objects that might be related to the missing Malaysia Airlines
flight MH370 in the south Indian Ocean, March 27, 2014. Five Chinese vessels
have arrived in the waters where Australia had spotted floating objects,
Chinese Foreign Ministry spokesman Hong Lei said on Thursday. Another
three vessels were heading to the area. (Xinhua/Zhao Yingquan)
As the search mission enters its third week, three Chinese warships are now sweeping the area where an Australian satellite spotted floating debris on Wednesday.

Now two additional Chinese military ships are on the way to the southern Indian Ocean to join the search. In addition two Chinese military transport aircraft arrived in Perth on Saturday, and have flown missions in the target area.

"The search mission has tested the military's capabilities for quick response, joint activities, comprehensive support, and international security cooperation." Chinese Ministry Of National Defense spokesman Geng Yansheng said.

Unprecedented international cooperation has been a highlight of handling this tragedy that has likely taken hundreds of lives.

6 countries including China are involved in the search and recovery mission in heavy seas far off the west coast of Australia.

China's ministry of defense says the search shows the importance of establishing strong ties with other countries during a civilian crisis.

"During the search operations, China has been cooperating with relevant countries in information sharing, joint search and rescue and logistic supply. China will continue the international cooperation in the field of non-traditional security issues." Chinese Ministry Of National Defense spokesman Geng Yansheng said.

So far, not a single item of debris linked to the missing plane has been recovered. Chinese authorities have urged unremitting efforts in the search in both the southern Indian Ocean and other possible areas and asked for more information sharing.