As part of his schedule, President Xi Jinping has talked with German sinologists, teachers from Confucius Institutes and German students studying Chinese. He's been advocating expanded cultural exchanges to promote understanding. On Saturday, the President also watched a youth football match between a Chinese and a German team, and encouraged more young Chinese to take up the sport.
Promoting cultural exchanges between China and Germany.
President Xi Jinping thanked the participants for their contributions.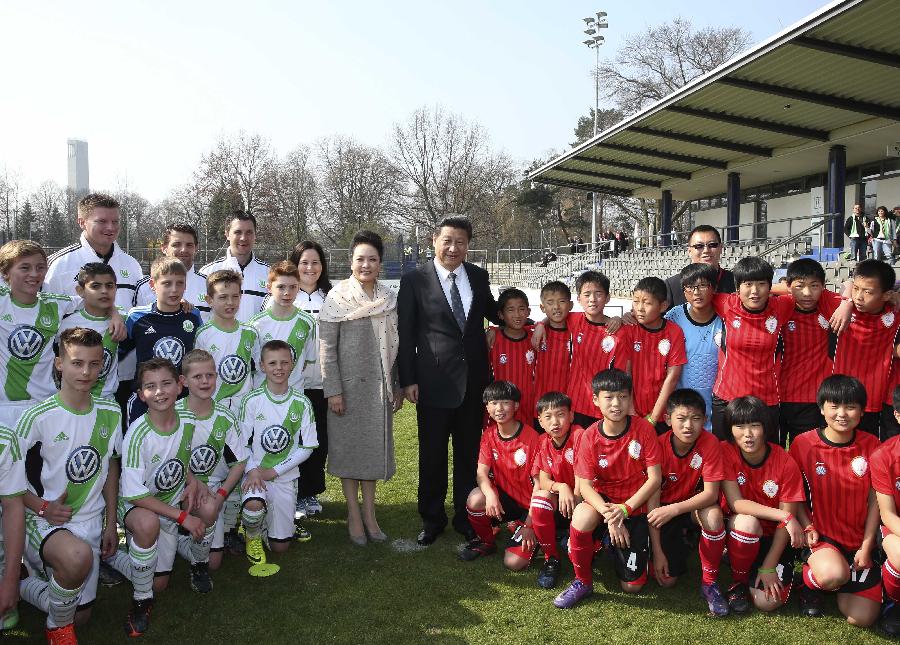 Chinese President Xi Jinping and his wife Peng Liyuan pose for a
group photo with Chinese kid footballers and their German peers from the
Wolfsburg club in Berlin, Germany, March 29, 2014. (Xinhua/Lan Hongguang)
He said the mastery of a foreign language helps a person appreciate the differences in different cultures. It can also help cultivate tolerance and amity towards other countries.
The president said expanding people-to-people exchanges can help eliminate prejudice or misunderstandings.
He wants to see the younger generation carry on the friendship between China and Germany.
In fluent Chinese, the German sinologists briefed Xi on their achievements. They suggested China do more to share its ancient and modern cultural traditions to enable the world to better understand China.
At the Olympic Stadium of Berlin, President Xi watched a friendly match between young Chinese and German youths from the Wolfsburg club.
The 20 Chinese are from Zhidan county in northwest China's Shaanxi Province. They're being trained by German coaches in Berlin.
Xi Jinping encouraged them to set an example for other young footballers in China. He said he hopes more young Chinese will devote themselves to the sport.