In Pretoria, Oscar Pistorius is on the stand, as his defense to the charge of pre-meditated murder in the shooting death of his girlfriend Reeva Steenkamp begins. Pistorius shot Steenkamp on Valentine's Day last year. The athlete has pleaded innoncent, claiming that he mistook her for an intruder.
South African Paralympic athlete Oscar Pistorius (2nd L), charged with murder of his girlfriend Reeva Steenkamp, walks to Pretoria's North Gauteng High Court in Pretoria, South Africa, on April 7, 2014. (Xinhua/Philly)
This is the dramatic moment that many have been waiting for, Oscar Pistorius telling the world in his own words what happened on that tragic night. Pistorius has chosen to not allow the cameras in the court to film him, however audio from his testimony, and the reaction of those in the courtroom, are being broadcast.

Much of the early testimony has focused on Pistorius' tumultous childhood, and his rise to Paralympic fame. He had yet to be asked about the events on the night that Steenkamp was killed. The accused was audibly distressed as he began his time on the stand... with an apology to the Steenkamp family.

"I'd like to apologize, and say that there's not a moment, and there hasn't been a moment, since this tragedy happened, when I haven't thought about Reeva, your family. I wake up every morning, and you're the first people I think of, the first people I pray for. I can't imagine the pain, and the sorrow, and the emptiness that I've caused you and your family. I was simply trying to protect Reeva. I can promise that, when she went to bed that night, she felt loved. I've tried to put my words on paper, many, many times to write to you, but no words would ever suffice," Oscar Pistorius said.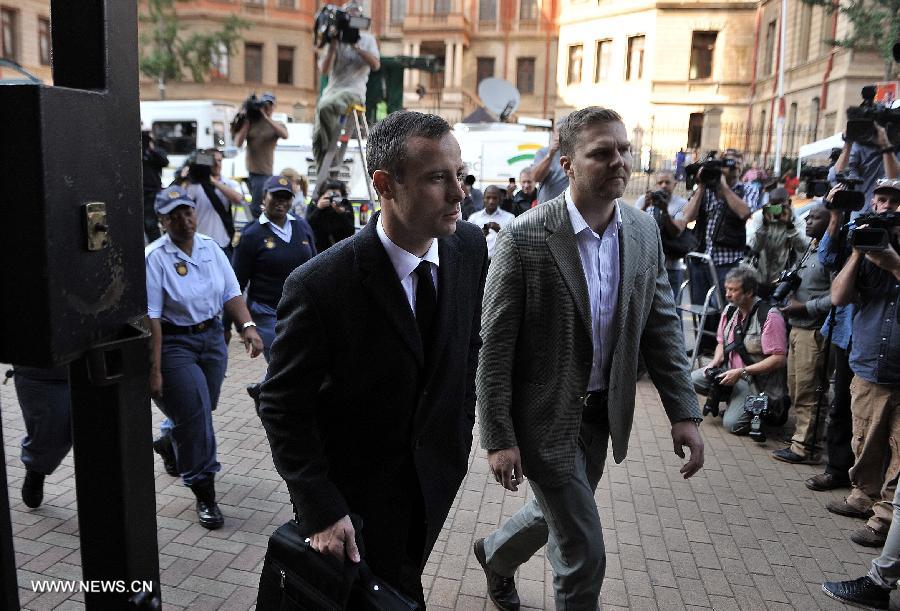 South African Paralympic athlete Oscar Pistorius (L), charged with murder of his girlfriend Reeva Steenkamp, walks to Pretoria's North Gauteng High Court in Pretoria, South Africa, on April 7, 2014. (Xinhua/Philly)