Good news for book lovers in Beijing: the city's first 24-hour bookstore, to be a cultural landmark, has been launched by the Sanlian Bookstore. Owned by the China Publishing Group Corporation, Sanlian is a major bookstore in the country. It has started its trial run, and the news has been warmly received by the public.
Beijing bookworms can now become night owls with the opening of the city's first 24-hour bookstore.
If everything goes smoothly - and everything has so far - the store may never close again.
Beijing's first 24-hour bookstore has been launched by the Sanlian Bookstore.
"We mainly sell social science books. Increasing profit is not our priority. Basically we want to create an intellectual environment for book lovers," said the store's general manager Fan Xi'an.
To facilitate 24-hour operations, the store has invested 3 million yuan, or half a million dollars, into the project.
The money was spent on increasing the number of staff, fixing roads in front of the store, installing new air conditioners, setting up tables and chairs for readers and upgrading bookshelves.
At night inside the store, many readers are either strolling alongside bookshelves, flapping through books or reading at tables newly set up beside windows. This 24-hour bookstore is a rare sight in this information age as people increasingly look to digital devices to acquire knowledge.
During the soft opening, the bookstore has gathered suggestions from readers via Weibo and emails.
Meanwhile, the store plans to continue with its nightly promotional offers, and will also keep organizing reading activities.
"People are using new media like smartphones and iPads, giving us fewer chances to actually sit down and read books, it's really a pity. I think it's nice to have a 24-hour bookstore where you can sit down and read books quietly whenever you want," said a customer in the store.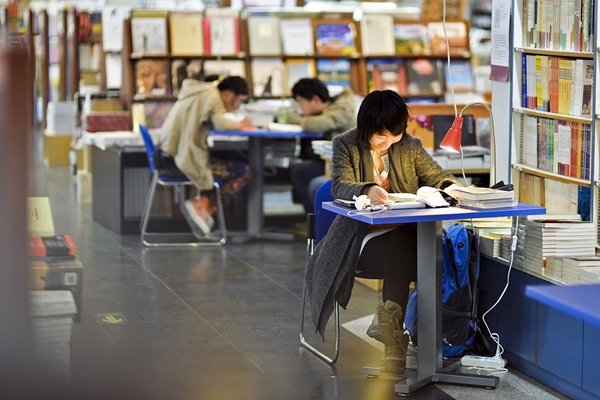 Beijing's first 24-hour bookstore has been launched by the Sanlian Bookstore.
According to a survey by the Chinese Academy of Press and Publication in 2013, Chinese people read an average of four books each last year, a figure that trails far behind major developed countries. The reading rate has actually dropped about 5 percent over the past 12 years.
"I normally get off work late, so by the time I get home it's already 9 pm and bookstores are closed, so the 24-hour bookshop will make things much more convenient," said a customer.
The Ministry of Finance issued a notice last year exempting books from wholesale and retail taxes from January 1st, 2013 to December 31st, 2017.
Many say this could help improve the nation's pursuit of more intellectual activities, hopefully moving some of the focus away from electronic devices, and back to the printed words.