In parts of Northern China, places in Xinjiang, Gansu, Qinghai and Inner Mongolia have been hit by sandstorms like you've never seen at least not in the past decade.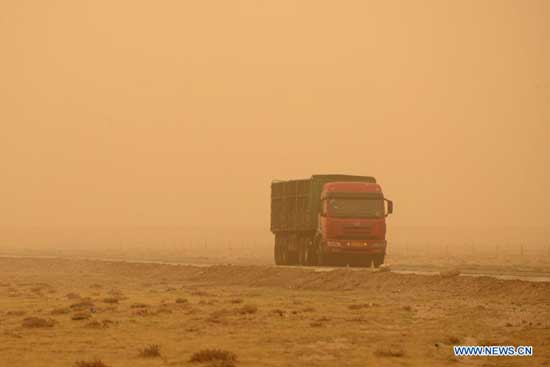 A truck runs in sand and dust in Urad Middle Banner of Bayan Nur,
north China's Inner Mongolia Autonomous Region, April 24, 2014.
(Xinhua/Zhi Maosheng)
The city of Dunhuang in Gansu province is among the worst hit areas. The sandstorm first struck the city on Wednesday afternoon. And in a matter of minutes, visibility was reduced to just meters. Schools were subsequently closed and pedestrians were forced to wear masks. And the weather in parts of southern Xinjiang is just as bad, if not worse.

On Thursday, 22 flights were either delayed or canceled in the region. The sandstorm has also reduced temperatures to as low as zero degrees Celsius in the affected regions. Local authorities are taking emergency response measures to deal with traffic safety and infrastructure repairs.