Iraq's first election since the 2011 U.S. withdrawal is underway. More than 20 million registered voters have the chance to cast their ballots on some 9,000 candidates for over 300 parliamentary seats.
Prime Minister Nuri al-Maliki called for all Iraqis to participate in the election as he cast his vote in the capital.
Al-Maliki said: "On this occasion I call upon all Iraqis to go to the ballot box and participate in large numbers because those who will take part in the election will have a right to monitor and ask questions, just as those who will not take part in the election will have no right. I do not want any citizen to miss his right in monitoring the election."
Al-Maliki says he is "certain" that his party will win the country's landmark parliamentary polls, which would give him a third term as prime minister.
In order to secure the voting process, security forces in central Baghdad have set up checkpoints roughly for every 500 meters apart. Most stores have been closed and the government has banned private cars from going on roads from late Tuesday night. The ban is expected to be lifted after the voting finishes later today. Voters are being subjected to multiple searches before they are allowed inside polling centers.
Despite all these security measures, some of which started weeks ago, the election has been hit by violence. Police said 10 people were killed and 22 others wounded in separate attacks that targeted polling centers across the country on Wednesday.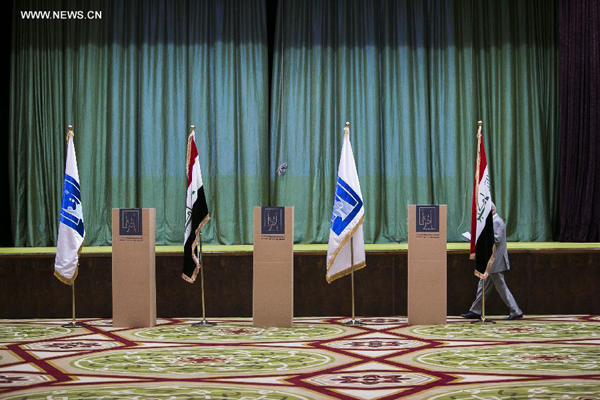 A government official prepares to cast his vote at a polling station in the green zone in Baghdad, Iraq, April 30, 2014. Iraqis began to cast their ballots Wednesday morning in the parliamentary elections, the first since the withdrawal of U.S. troops from the country by the end of 2011. (Xinhua/Cui Xinyu)