Chinese Premier Li Keqiang and his Ethiopian counterpart, Hailemariam Desalegn, have vowed to strive for new progress in the development of a comprehensive cooperative partnership between the two countries.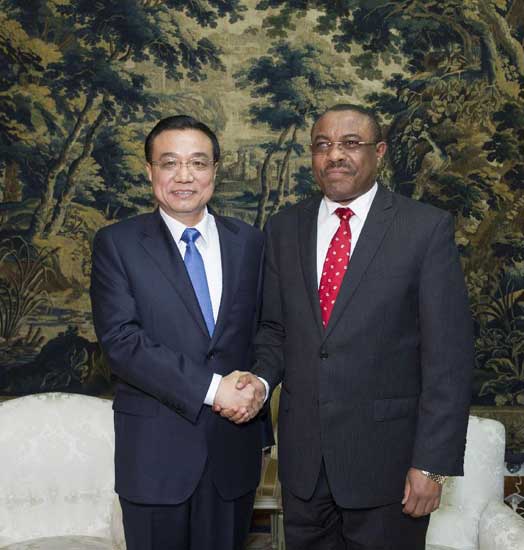 Chinese Premier Li Keqiang (L) shakes hands with Ethiopian Prime Minister
Hailemariam Desalegn during their talks in Addis Ababa, Ethiopia, May 4, 2014.(Xinhua/Wang Ye)
After arriving in Addis Ababa on Sunday afternoon, Li Keqiang held talks with Desalegn, proposing that the two sides prioritize cooperation in infrastructure construction, energy resources exploration, construction of light rail and highways. Li added that China is willing to transfer to Ethiopia industrial technologies, to share experiences in establishing special economic zones and industrial areas. The Chinese premier also encouraged Chinese enterprises and financial institutions to invest in Ethiopia. He voiced hope that Ethiopia will provide a better business and investment environment for Chinese companies.
On his end, the Ethiopian prime minister responded saying that his country welcomed more investments from Chinese enterprises and would take measures to facilitate such investments.
After their hour-long talk, Li Keqiang and Desalegn witnessed the signing of several cooperation deals covering such areas as technology, industry, infrastructure and finance.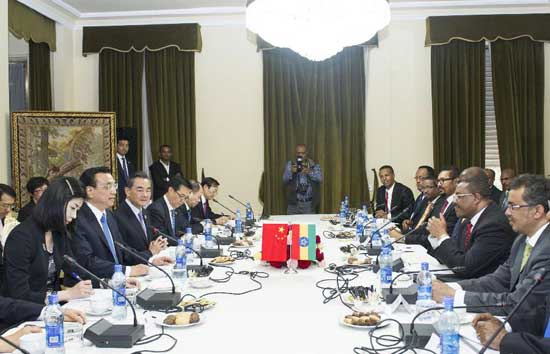 Chinese Premier Li Keqiang holds talks with Ethiopian Prime Minister Hailemariam
Desalegn in Addis Ababa, Ethiopia, May 4, 2014. (Xinhua/Wang Ye)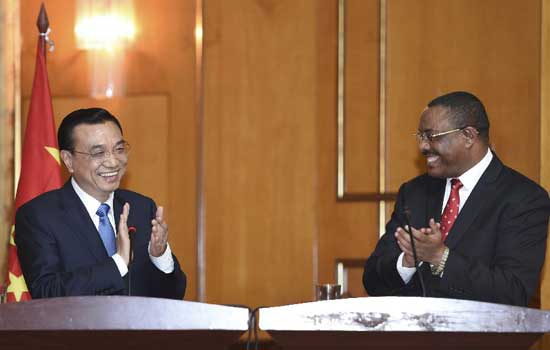 Chinese Premier Li Keqiang (L) and Ethiopian Prime Minister Hailemariam
Desalegn meet press after their talks in Addis Ababa, Ethiopia, May 4, 2014. (Xinhua/Li Xueren)