Ministers from China, Australia and Malaysia have been briefing the media on the next stage of the search for missing Malaysian flight MH370. The briefing followed a trilateral meeting in Canberra.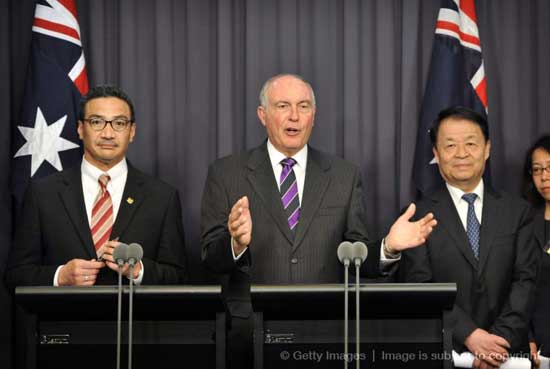 Australia's Transport Minister Warren Truss (C) speaks during a press conference with Malaysia's Transport Minister Hishammuddin Hussein (L) and Chinese Transport Minister Yang Chuantang (2nd R) after talks about missing Malaysia Airlines flight MH370, at Parliament House in Canberra on May 5, 2014.
Australia's Deputy Prime Minister says 4.6 million square kilometers of ocean have now been searched by ships and planes from several countries, as well as the underwater submersible, the Bluefin 21. A number of technical meetings are due to be held on Wednesday, with experts analyzing all the data accumulated so far. New sonar vehicles are expected to be brought in, with a wider range of functions.

"One of key elements of next stage .....we know the water is very deep...next stage involve sonar and ......and of course capable autonomous underwater search vehicles." Australian Deputy Prime Minister Warren Truss said.