Chinese Premier Li Keqiang has laid out a framework for China-Africa cooperation in a speech at the headquarters of the African Union. Speaking on Monday in Addis Ababa, Premier Li proposed four principles for deepening cooperation and underlined six primary areas of cooperation.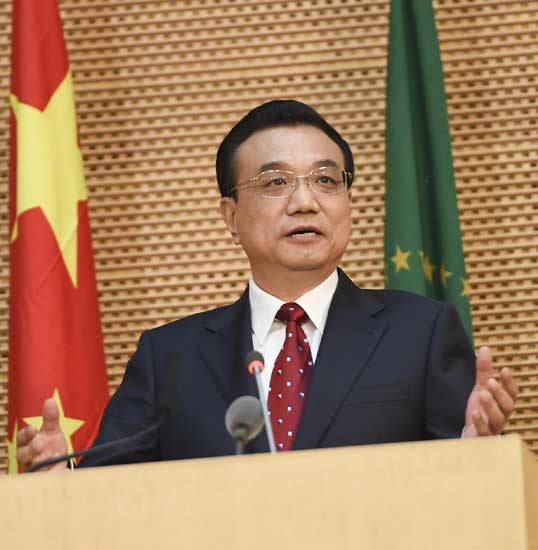 Chinese Premier Li Keqiang delivers a speech at African Union (AU) Conference Center in Addis Ababa, Ethiopia, May 5, 2014. (Xinhua/Li Xueren)
Premier Li spoke highly of Africa's role in maintaining world peace and stability. He said Africa was one of the fastest growing regions in the world and is widely seen as an important emerging market. Li said China respected the people of Africa and that China is confident of their bright future.

To further deepen China-Africa cooperation, Premier Li proposed four guiding principles. They are - treating each other sincerely and equally; consolidating solidarity and mutual trust; jointly pursuing inclusive development and promoting innovation in bilateral practical cooperation.

Premier Li also underlined six primary areas of cooperation; namely industry, finance, poverty reduction, ecological protection, people-to-people exchanges, and peace and security. To reach this level of cooperation, Premier Li said China and Africa should enhance the cooperation forum as an important platform.

On the matter of bilateral trade, Premier Li set a target of 400 billion US dollars by 2020. Bilateral trade stood at over 210 billion dollars in 2013. As for financial cooperation, Premier Li promised that China will increase its loans for African countries and expand the China-Africa Development Fund.

To further reduce poverty in the continent, China will send more personnel to Africa to assist in providing clean drinking water and preventing epidemics. Premier Li then stressed that ecological protection is a shared responsibility of all humanity, and China will provide more free aid for preserving wildlife and protecting bio-diversity. Premier Li also spoke of a dream of connecting African capitals with high-speed rail. He said China will contribute its cutting-edgy technologies in this area to help make the dream come true.